With the rapid heating of the "non-contact economy" during the epidemic, many new temperature measurement products have been derived, among which the automatic sense temperature measurement and disinfection integrated machine is one of them.
SCANMAX Technology provides various intelligent products for epidemic prevention and protection, including various series of vertical face recognition and temperature measurement integrated machines, face recognition temperature measurement and access control integrated machines, facial recognition health code verification integrated machines, and face recognition temperature measurement and disinfection integrated machine, temperature measurement and disinfection integrated machine, infrared temperature measurement and user's verification terminal and other products have been widely used in various industries and multiple scenarios in the front line of social anti-epidemic, providing a set of powerful and intelligent epidemic prevention solutions for intelligent epidemic prevention scenarios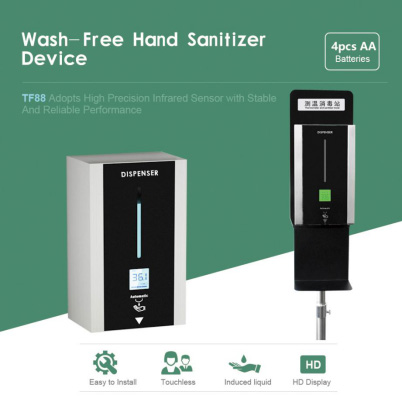 Next, SCANMAX will take a look at a brand new domestic and international epidemic prevention necessary new product—TF88 thermal sensor temperature measuring multifunctional automatic hand spray dispenser, which exhibits amazing intelligent temperature measurement and disinfection capabilities.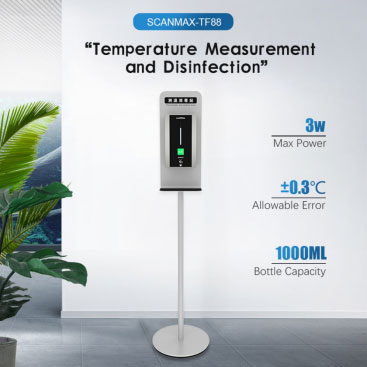 The TF88 temperature measurement and disinfection integrated machine adopts a brand-new industrial design with good appearance and high quality. The weight of the whole machine is only 8.5KG. It not only realizes a small and beautiful design, but also has powerful precision temperature measurement and automatic disinfection capabilities. At the same time, it is suitable for the dual requirements of non-contact infrared temperature measurement and spray disinfection of the hands of passers-by, avoiding the spread of potential epidemics, and 1 second efficient temperature measurement + disinfection. The initial temperature setting of the TF88 temperature measurement and disinfection station is 37.5℃ (adjustable). When the temperature is measured and the human body temperature exceeds 37.5℃, the device will give an alarm to remind the surrounding people not to let high temperature passers-by or suspected entry into dense places in case a second infection. In the post-epidemic era, it is very important to save people, save time, avoid infection, and do accurate and efficient disinfection and temperature measurement!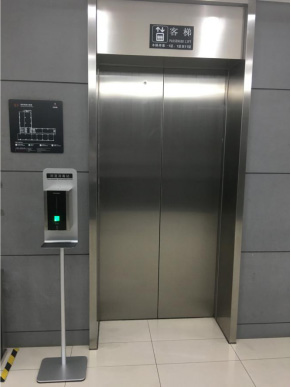 TF88 temperature measurement and disinfection integrated machine has the advantages of non-contact, convenient, fast and safe, and can be quickly and portablely deployed in various public entrance and exit scenarios, such as schools/educational institutions, office buildings/property communities, hospitals/banks, enterprises and institutions/ building property service centers, elevator entrances, wholesale markets, government centers and other places. TF88 is super cost-effective , making epidemic prevention easier and more efficient, and using science and technology to forge health and safety shields.