Background of the project:
Under the background of normalization of epidemic prevention and control, the "health code" has become a must for travel. However, for people who move across regions, the registration and inspection of the "Health Code" of "Thousands of Grounds and Thousands of Faces" also brings inconvenience to travel. On December 10, 2020, the National Health and Health Commission, the National Medical Insurance Administration, and the State Administration of Traditional Chinese Medicine jointly issued the "Notice on Further Promoting the "Internet + Medical Health" and "Five Ones" Service Actions", which clearly requires all localities to implement "healthy health". "Code" nationwide mutual recognition, one code pass, further prevents the possible rebound of the epidemic in autumn and winter, and enhance the ability to treat, track, and prevent major epidemics.
Customized requirements:
In the context of the normalization of the epidemic, the emergence of face recognition temperature measurement equipment has largely replaced manual work. When the health passcode is combined with the face temperature measurement and health code all-in-one machine, more unmanned to reduce the risk of the spread of the epidemic
Therefore, in the era of national mutual recognition of health codes and "one-code access", the health code face recognition and temperature measurement integrated terminal F6 series with the recognition function of the National Health Code (National Government Affairs Platform Health Code) will surely become a popular health and epidemic prevention product. It is necessary to do a three-in-one inspection of "person, certificate, and code".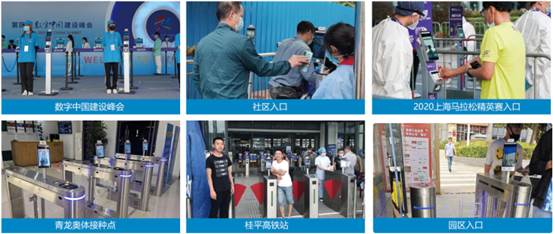 Solution:
With years of experience in the security industry, RAKINDA(SCANMAX) has independently developed the health code temperature measurement and face recognition integrated machine F6 serial products, which integrates ID card verification, health code and body temperature measurement, and conducts identity verification through face recognition, document recognition, and health code recognition. , the identity and health check and other procedures can be completed at one time, and it can also achieve "heavy insurance" through face temperature measurement + health code check + mask recognition, so as to achieve intelligent access. In the whole process, the manual code checking link is eliminated, which greatly improves the ability of rapid verification and accurate prevention and control, realizes the safe and orderly flow of personnel, reduces the probability of doctor-patient contact as much as possible, and avoids unnecessary cross-infection. And with the advantages of convenience and intelligence, it has been recognized by people. The operation is simple and easy to use. You only need to call out the health code of the national government affairs platform and align it with the identification port for quick identification, so as to achieve a three-in-one inspection of "person, certificate, and code".

RAKINDA (SCANMAX) F6 series terminals are used in face recognition intelligent temperature measurement, health code intelligent verification and epidemic prevention, and automatic data collection and analysis, which greatly facilitates the rapid screening of passers-by in public places with large traffic , support the verification and identification of the national government platform health code (National Health Code), and support the development of health code docking across the country.and the main features as below :
1. Android 11 operating system, support 4G function: optional 4G module, data transmission can be realized in temporary construction scenarios and remote scenarios without network cable access;
2. Support strong light: can be used in harsh environments such as outdoor strong light, backlight, backlight, etc.;
3. The face recognition temperature measurement terminal supports voice/video calls: visitors can access through the call of the intercom system
4. Support secondary development: open interface to help partners quickly upgrade industry applications
5. Support cloud and local identification, personalized customization
6. Support to store more than 30,000 faces