With the rapid development of the global economy, vending machines not only sell coffee, soda, chips and other snacks, but also sell hot food.
Hot food vending machines are on the streets of Japan and even China. Customers can follow the keyword prompt on the POS screen and operate the vending machine for consumption. In addition to cash and COINS, there are more convenient payment methods, QR code scanner mobile payment mode.
Customers stand in front of the hot food vending machine and make payment first. According to the operating instructions of the POS machine screen, the customer first generates a screen QR code for the payment in the mobile APP Google Pay or Apple Pay application, and then points it at the QR code scanner window for payment. After the payment is successful, the hot food vending machine begins to perform the cooking operation. Wait about 20 seconds for the fast cooking, a bowl of delicious seafood noodles will be fresh out of the vending machine! Seafood to the palate with cooking noodles in the hotel difference is not big, but hot food vending machines more to save time, and in some remote no restaurant area, hot food vending machines to passing pedestrians has brought great convenience.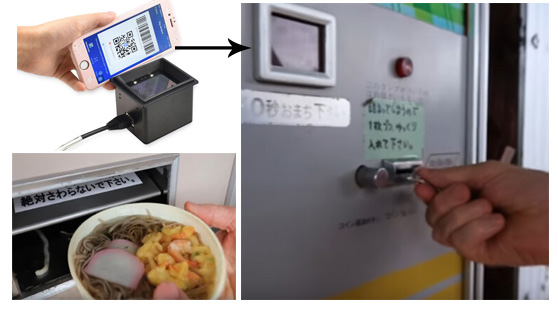 What is a good QR code scanner to recommend for the Vending Machine?
Our RAKINDA brand barcode scanner can meet all the above requirements.
RD4600 fixed mount barcode scanner has a interface is USB or RS232. It reads close printed or screen barcodes with 5 to 10mil precision. It has aluminum alloy housing and it's industrial grade IP54. Its light source is LED white light and has IR infrared sensing. The operating temperature is -10°C~+50°C and has good thermal conductivity. At the same time, small streamlined design makes it perfect for embedding in the various types of self-service machines to use, like Kiosk, Turnstile and Vending machine, very nice.