S3 PLUS serial products extend Rakinda product serials into Android OS 5.1.1 with 4G high-speed network communication. Inside the compact handheld device, sealing level of IP65 water/dust proof, 1.5m/4.5ft drop survival, ergonomic design, over-molding structure, quick- charging technology, and 5.0-inch tough Gorilla Glass 3 screen are all equipped to ensure performance. Latest 1.3GHz quad-core processor 2GB RAM/16GB ROM and up to 32GB expansion are all designed to boost up experience level.
Product Features:
1.Extremely Stable Performance
Android 7.0 OS with memory of 2GB RAM/16GB ROM can provide the highly standard experience.
2.High Speed Data Communication
Double insurance of 4G high Speed network and dual-frequency WIFI network can ensure the real-time data communication in different using environment.
3.Rugged Ergonomic and Over-molding Design
Over-molding and ergonomic hardware design can satisfy most of the tough environment from different fields.
4.Extremely Stable Hardware Display
5.0 inch Gorilla Glass 3 9H screen can ensure the performance under different tough environment.
5.Highly Customized Structure
'All-in-One' hardware design conception can expand the hardware modules integration based on different project requirements, especially like UHF+HF, UHF+LF, HF+LF.
6.Quick-Charging
Quick-charging technology can provide the most efficient experience.
7.Perfect Service
Professional and skillful service involving the whole life cycle can guarantee the stability.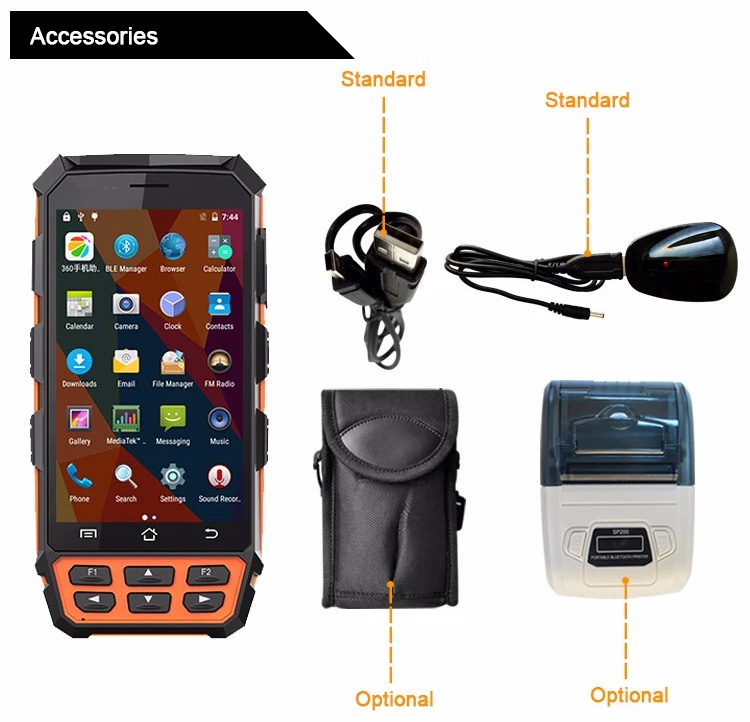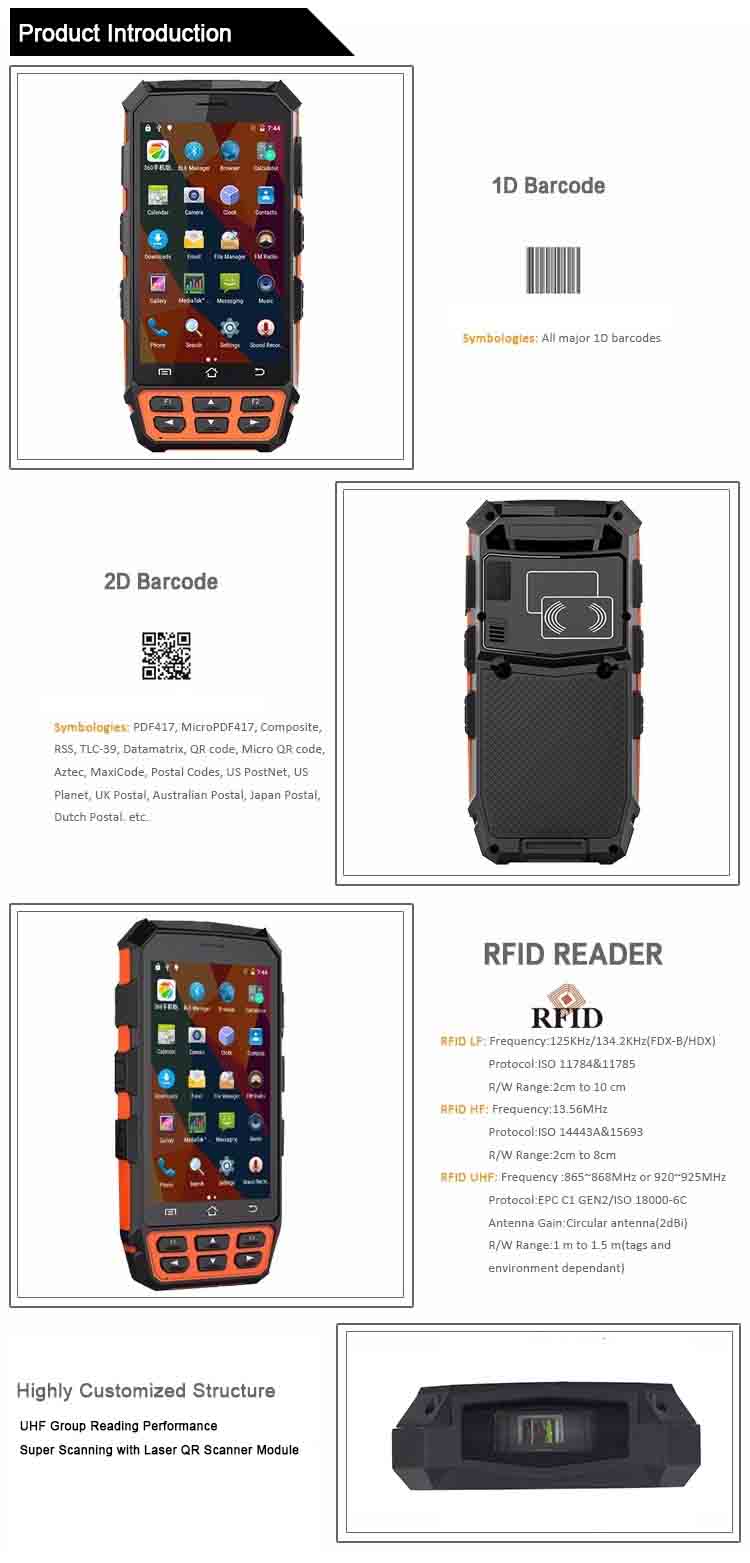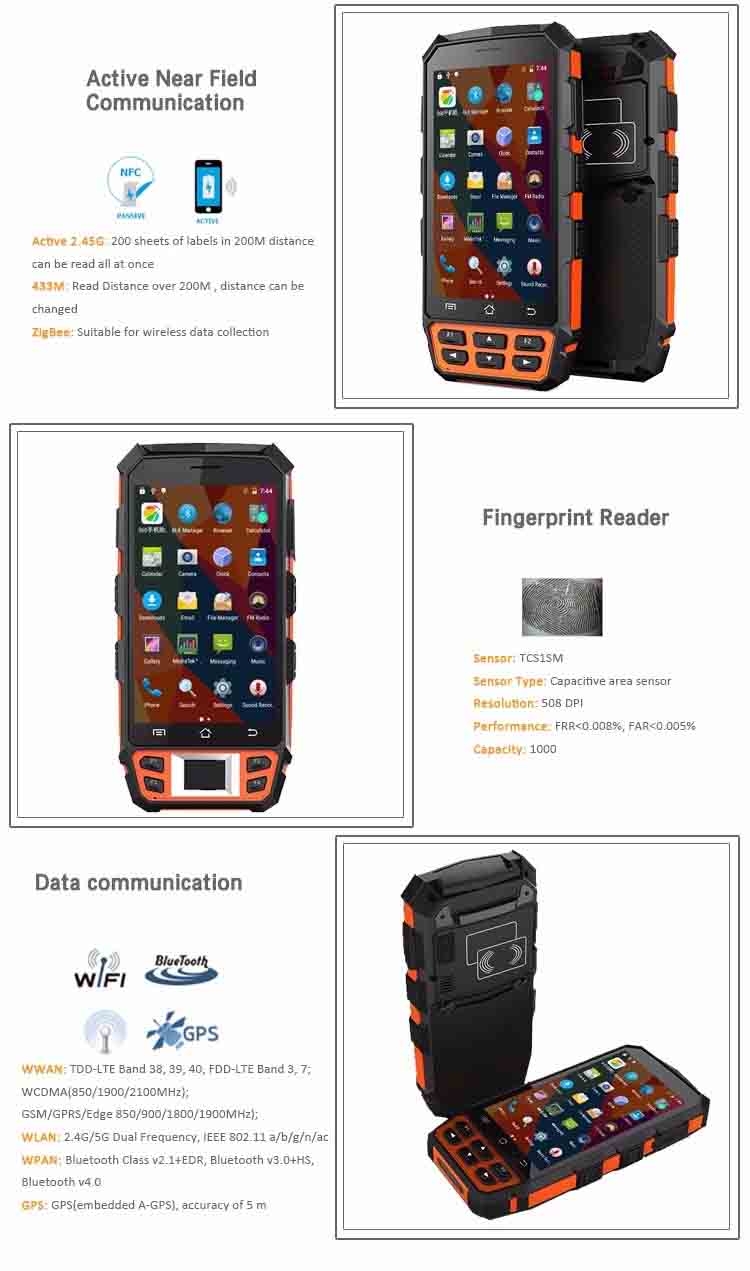 Applications:
Warehouse Management, Inventory Management, Retailing Management, Logistics Management, UHF Animal Management etc.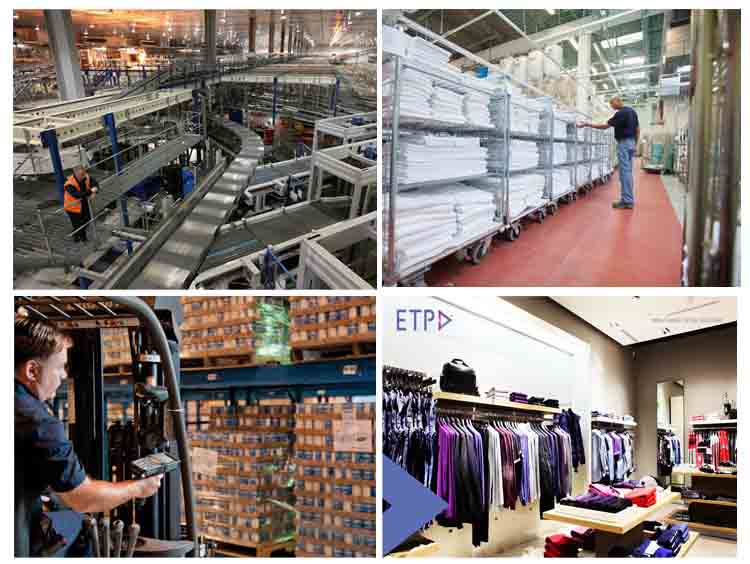 PHYSICAL CHARACTERISTICS
Dimension
170mm(H)x85mm(W)x23mm(D)±2 mm
Weight
Net Weight :370g (including battery)
Display
Gorilla Glass 3 9H 5.0 in. TFT-LCD(720x1280)touch screen with backlight
Backlight
LED backlight
Keypads
3 TP keys, 6 function keys, 4 side buttons
Expansions
2 PSAM, 1 SIM, 1 TF
Battery
Rechargeable li-ion polymer, 3.7V, 4500mAh
PERFORMANCE CHARACTERISTICS
CPU
Quad A53 1.3GHz quad-core
Operating System
Android 7.0
Storage
2GB RAM, 16GB ROM, MicroSD(max 32GB expansion)
USER ENVIRONMENT
Operating Temp.
-20℃ to 50℃
Storage Temp.
-20℃ to 70℃
Humidity
5%RH to 95%RH(non-condensing)
Drop Specifications
5ft./1.5 m drop to concrete across the operating temperature range
Sealing
IP65, IEC compliance
ESD
±15kv air discharge, ±8kv direct discharge
DEVELOPMENT ENVIRONMENT
SDK
HHW Software Development Kit
Language
Java
Environment
Android Studio or Eclipse
DATA COMMUNICATION
WWAN
TDD-LTE Band 38, 39, 40, FDD-LTE Band 1, 2, 3, 4, 7;
WCDMA(850/1900/2100MHz);
GSM/GPRS/Edge 850/900/1800/1900MHz);
WLAN
2.4GHz/5.8GHz Dual Frequency, IEEE 802.11 a/b/g/n/ac
WPAN
Bluetooth Class v2.1+EDR, Bluetooth v3.0+HS, Bluetooth v4.0
GPS
GPS(embedded A-GPS), accuracy of 5 m
DATA CAPTURE
BARCODE READER(OPTIONAL)
1D barcode
1D laser engine: Honeywell N431x
Symbologies: All major 1D barcodes
2D barcode
2D CMOS Imager: Honeywell N6603
Symbologies: PDF417, MicroPDF417, Composite, RSS, TLC-39, Datamatrix, QR code, Micro QR code, Aztec, MaxiCode, Postal Codes, US PostNet, US Planet, UK Postal, Australian Postal, Japan Postal, Dutch Postal. etc.
COLOR CAMERA
Resolution
8.0 megapixel
Lens
Auto-focus with LED flash
RFID READER(OPTIONAL)
RFID LF
Frequency: 125KHz/134.2KHz(FDX-B/HDX)
Protocol: ISO 11784&11785
R/W Range: 2cm to 10 cm
RFID HF
Frequency: 13.56MHz
Protocol: ISO 14443A&15693
R/W Range: 2cm to 8cm
RFID UHF
Frequency: 865~868MHz or 920~925MHz
Protocol: EPC C1 GEN2/ISO 18000-6C
Antenna Gain: Circular antenna(2dBi)
R/W Range: 1 m to 1.5 m(tags and environment dependant)
Active 2.45GHz
Read range more than 200 m
433MHz
Read range more than 200 m
ZigBee READER(OPTIONAL)
Protocol
IEEE 802.15.4
Reading Range
100 m to 200 m
FINGERPRINT READER(OPTIONAL)
Sensor
TCS1CT
Sensor type
Capacitive, area sensor
Resolution
508 DPI
Performance
FRR<0.008%, FAR<0.005%
Capacity
1000
PSAM SECURITY(OPTIONAL)
Protocol
ISO 7816
Baudrate
9600, 19200, 38400,43000, 56000, 57600, 115200
Slot
2 slots(Standard)
ACCESSORIES
Standard
1xPower Supply
1xLithium Polymer Battery
1xDC charging cable
1xUSB data cable
Optional
Magnetic charging cable; Carrying case