Strong versatility adjustable buckle can be combined with 5~8 inch mobile phone/tablet portable. (Has passed the utility model patent). With lighting and cross aiming, you can read barcode targets in a completely dark. When the USB cable is plugged into the interface, it will automatically charge without pressing any buttons. HW & SW dual protection, priority to enable software protection.
Product Features:
1. Strong versatility
Adjustable buckle can be combined with 5~8 inch mobile phone/tablet portable. (has passed the utility model patent)
2. Versatile on-demand selection
UHF comes standard with 1D/2D scanning, IrDA meter reading, glare flashlight, etc.
3. High performance UHF read function
Support 6B & 6C protocol, can read UHF tags from a long distance, and also support simultaneous multi-tag reading.
4. With charging function
Built-in large-capacity 6000mAh battery can charge the mobile phone at any time to complete the outdoor mobile phone life.
5. Bluetooth Communication
The software adapts quickly, the mobile phone does not need to make any changes (providing communication interface, SDK and source code), which greatly shortens the project landing time.
6. Long life cycle, low cost of iteration
After the mobile phone is upgraded or replaced with a new battery, this is the latest PDA: not only can the low-cost sharing of the mobile phone/table change performance, but also the cost of purchasing. Dynamic data collection function.
7. Good heat dissipation and durability
Metal body heat dissipation is good, long life is not dead, and it is durable and durable.
8. Tilt design with handle
The handle has a good grip, easy operation and good reading angle.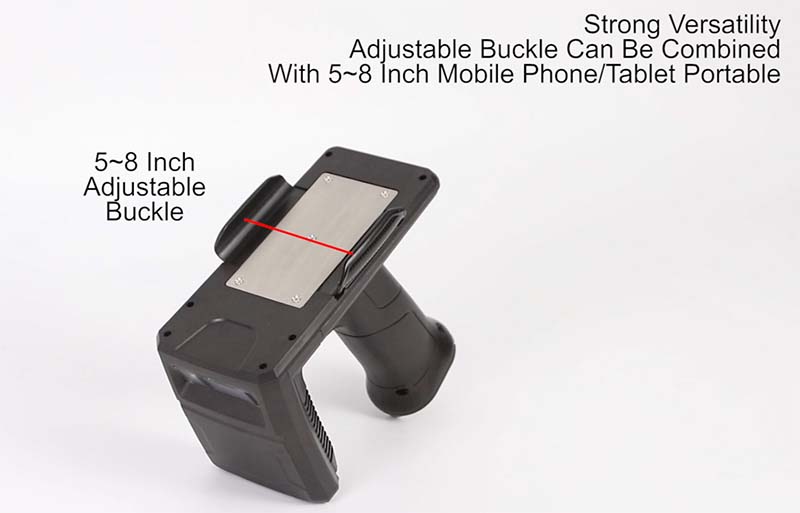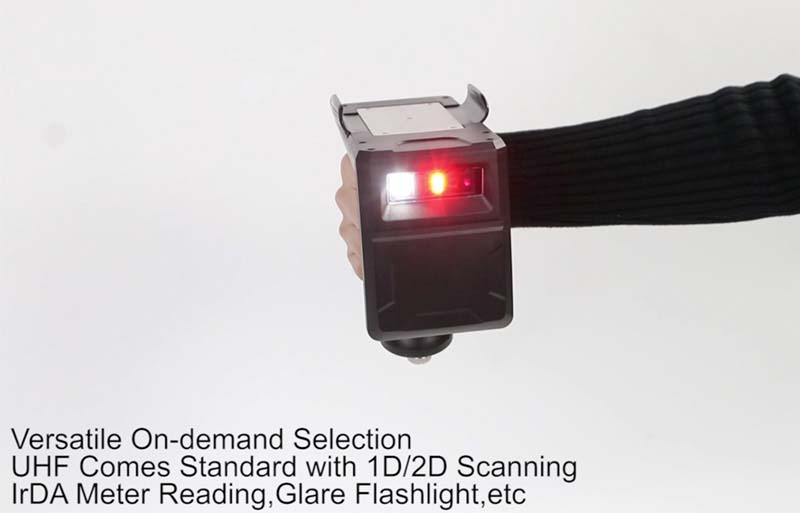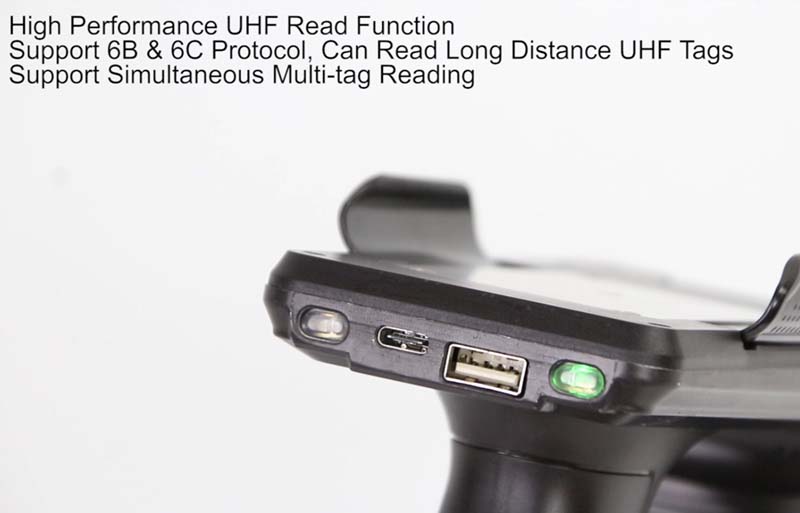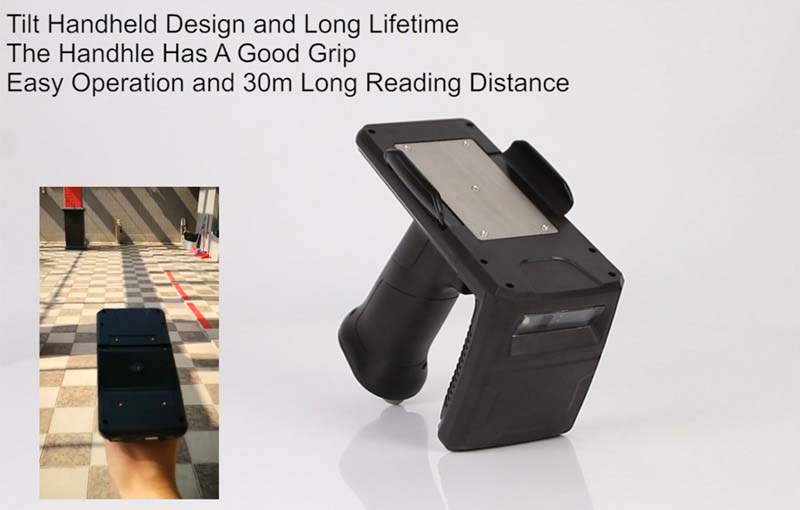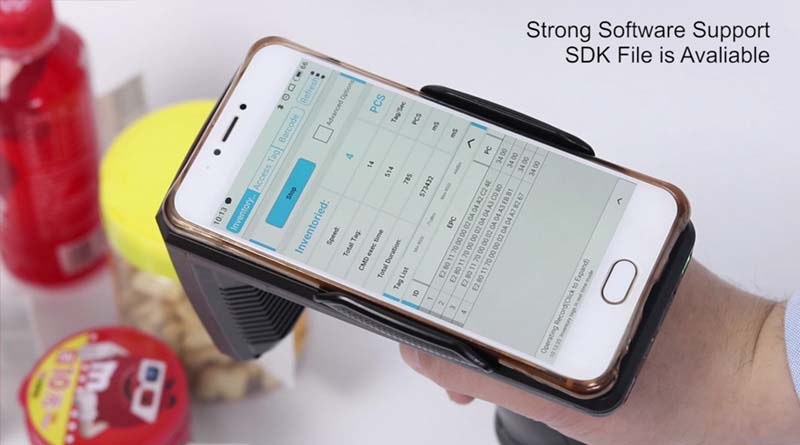 Long time operating and standby
Builtin Battery: Optional to equip two 6000mAh lithium battery.
Working Time:1D/2D scan: one time per second, continously working over 72 hours.
UHF: Continue to read card over 4 to 8 hours.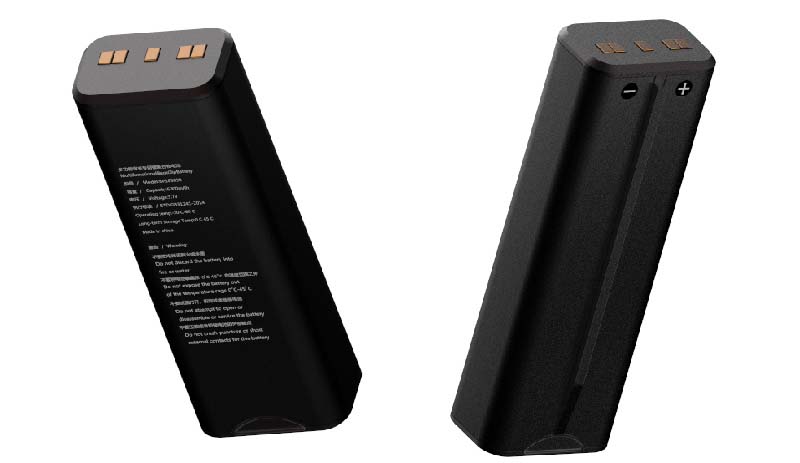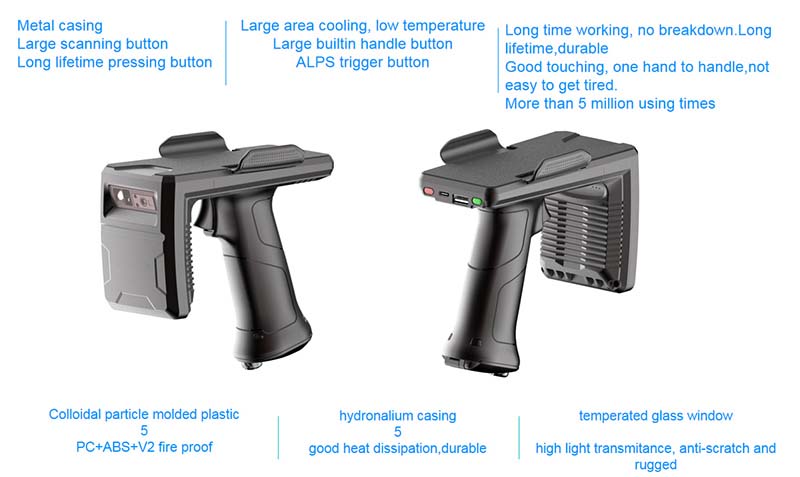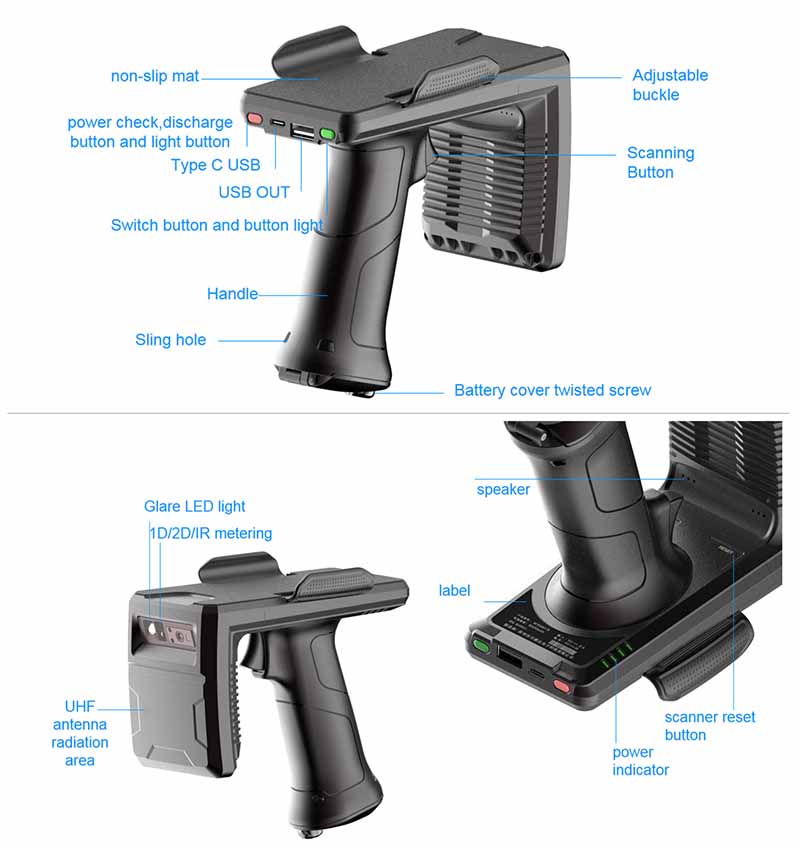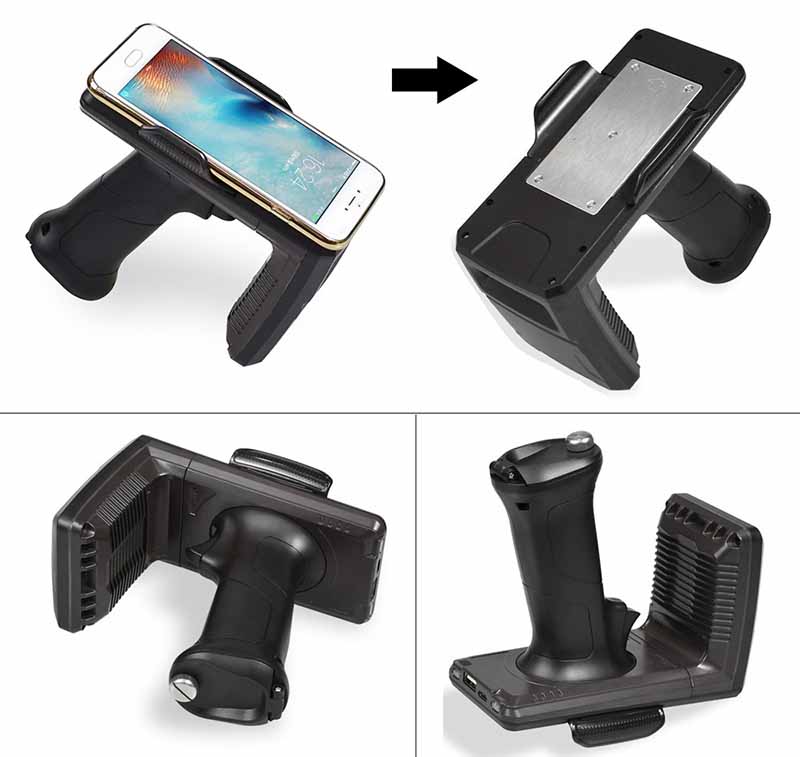 Charge and discharge function parameter
Charging Voltage
5.0±0.25V DC
Output Voltage
5.0±0.25V DC
Nominal Capacity
6000mAh
Standard charging currency
<2A
Standard charing Method
CV (constant voltage 5.0V) charging
Charging Time
≤ 4 hours (1 charge cycle time for BACKPOWER internal battery)
MAX charging currency
<2A
MAX discharging currency
<2A
Communication Interface
Bluetooth
UHF Function
Working frequency
860Mhz – 960Mhz
Air interface protocol
EPCglobal UHF Class 1 Gen 2 / ISO 18000-6C ISO 18000-6B
Output Power
0~33dBm
Antenna
3dbi circularly polarized antenna
Reading distance
3~15m(Related to factors such as label size)
Read tag peak speed
> 200 sheets / sec
1D/2D functions
Image sensor
752×480 CMOS
Light
CCD LED 625±10nm
Focus
Laser 650nm
Symbologies
2D
PDF417, QR Code (QR1/2, Micro), Data Matrix (ECC200, ECC000, 050, 080, 100, 140)
1D
Code 128, EAN-13, EAN-8, Code 39, UPC-A, UPC-E, Codabar,Interleaved 2 of 5, ITF-6, ITF-14, ISBN, Code 93, Code 11, UCC/EAN-128, GS1 Databar, Matrix 2 of 5, Industrial 2 of 5,Standard 2 of 5, Plessey, MSI-Plessey ,etc
Precision
≥3mil
(Options)Typical reading depth of field
EAN-13
60mm~290mm (13mil)
PDF417
55mm~135mm (6.7mil)
Code39
55mm~165mm (5mil)
Data Matrix
55mm~130mm (10mil)
QR Code
45mm~175mm (15mil)
Symbol contrast
≥20%Reflection difference
Barcode sensitivity
Rotate 360°, tilt ±55°, deflection ±55°
Field of view
36° horizontal and 23° vertical
Infrared emission tube center wavelength
940nm
IrDA Power meter reading function (optional)
Infrared receiver tube
38kHz Modulation frequency
Reading distance
>3m
Transmission baud rate
1200bps
Data communication bias
35°
Working currency
≤30mA
Flashlight
Powerful torch
1W Strong light flashlight for use in dark environments.
Environment
Operating temperature
0℃~45℃
Storage temperature
-10℃~ +45℃
Working humidity
5% - 95% ( No condensation )
Standard
Type C USB charging cable
Certificate
Electronic manual
Options
5V/2A & 5V/1A two-way separate output high-quality car charger (the indoor mobile phone charger can be used to charge the mobile phone and the back clip at the same time, the outdoor car can be charged, the car charger can also charge the tablet.)
Back clip lanyard
AC charger
Phillips screwdriver
Waist bag