About SM-RF807 Fixed Reader
Scanmax's SM-RF807 RAIN RFID (UHF) fixed reader is a high performance, wide band device supporting the ISO 18000-63 and ISO 18000-61 specifications (EPCglobal Class 1 Gen 2 protocol). The Dual CPU design, coupled with a Linux operating system, handles the most complex business requirement of our customers. Great reading performance, rugged design, and optional power over Ethernet combine to make this a solid solution.
Scanmax - the global RFID technology provider - is a leading developer and manufacturer of high quality, intelligent RAIN RFID (UHF) and NFC (HF) inlays, tags and connectivity solutions utilized in the Internet of Things (loT). With a focus on RFID innovation, Scanmax has created a leading product line in library, industrial, laundry, pharmaceutical, health care, (public) transportation and many other industries. Employing over 600 people globally, Scanmax is one of the largest publicly leader of RFID oriented companies in the world.
Product Features:
1. Mature Technology
2. Stable Performance
3. Long Distance Reading from 0-30m
4. Hot selling with safe stock always
5. Support POE and IP54 Industrial Protection
6. TCP/IP and RS232 communication
UHF Advantage
1. UHF reading with fast speed and sensitive performance
2. It meets the ISO 18000-6C standard
3. It supports EPC global Class 1 Gen 2 protocol
4. The Dual CPU design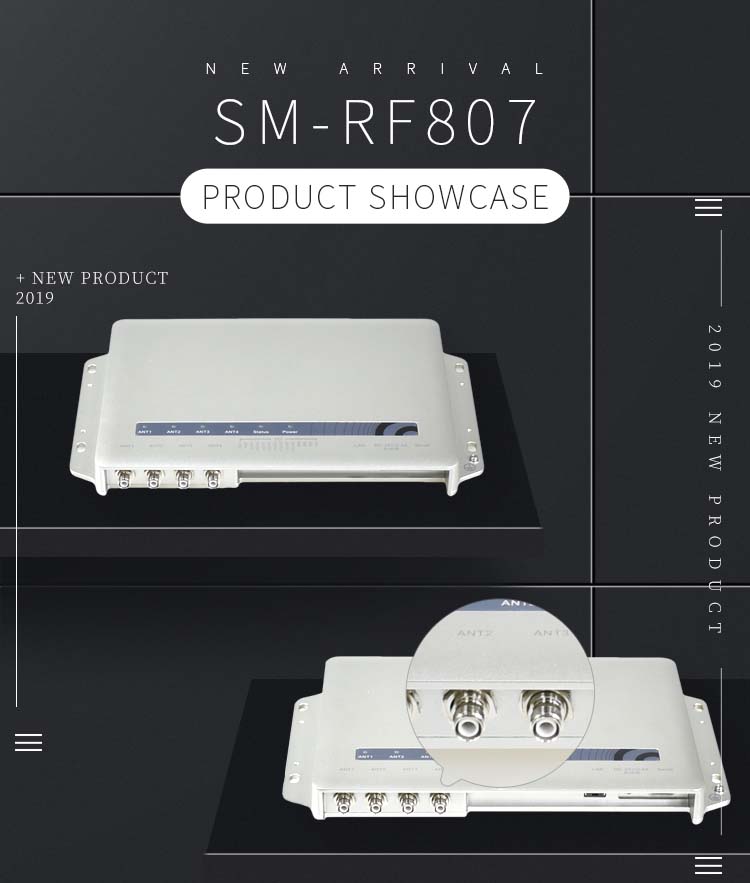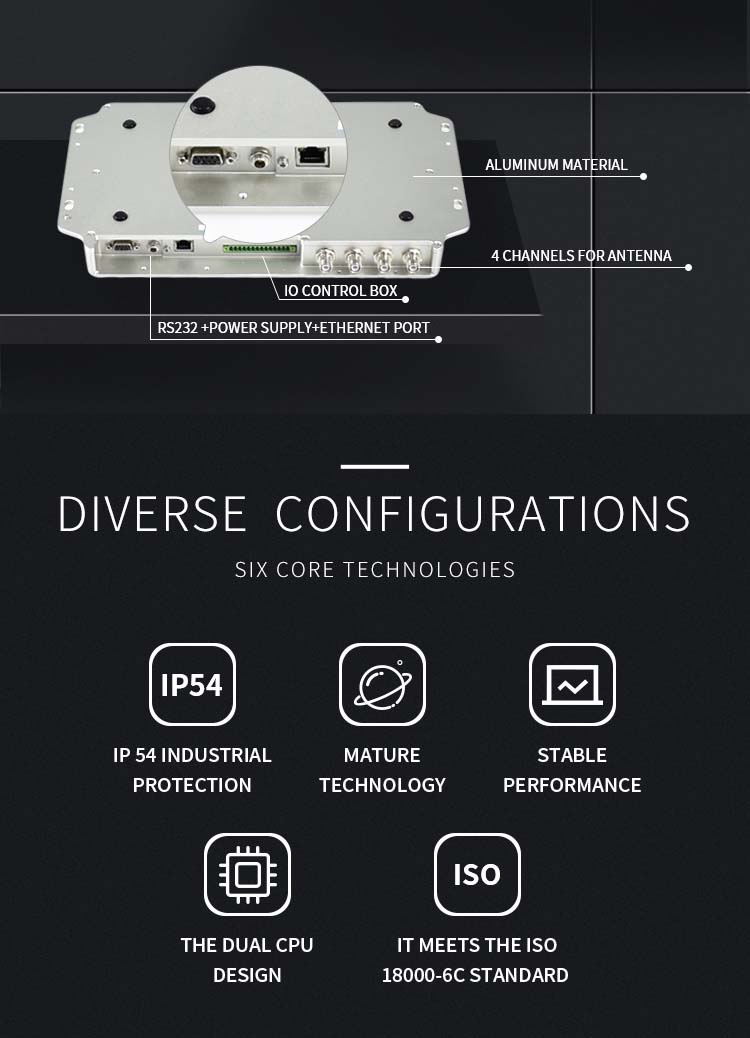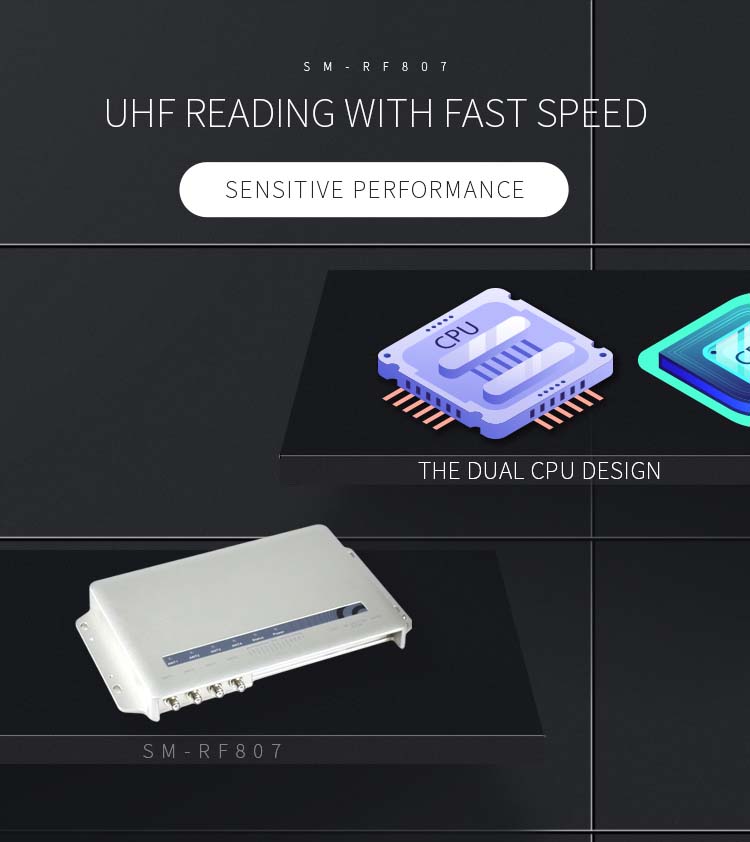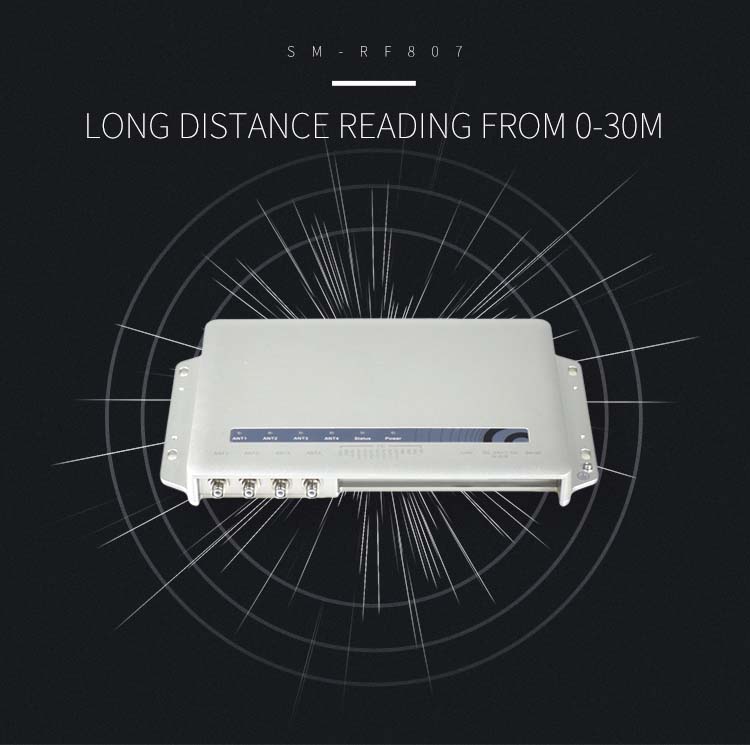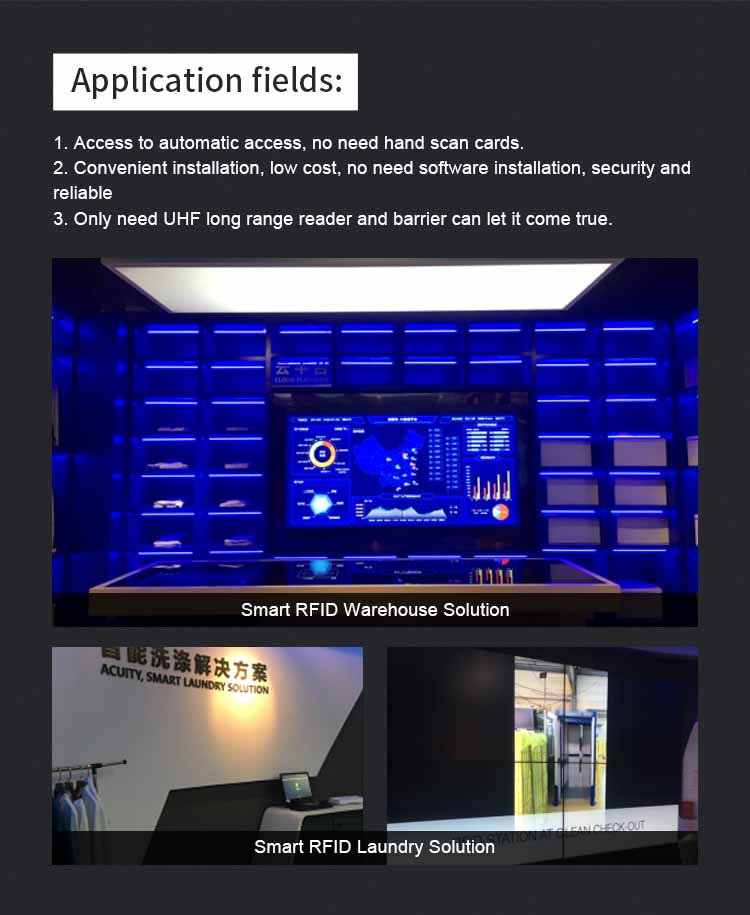 Our Successful Cases:
All the lanes of the Hong Kong-Zhuhai-Macao Bridge are equipped with advanced RFID electronic identification for identification of people and vehicles. The core RFID reader equipment is provided by us. (Goverment use our SM-RF807 Reader and SM-AF35 Antenna)

Physical Parameters
Dimensions
360 mm x 220 mm x 39 mm(14.17 in x 8.66 in x 1.54 in)
Weight
2.5 kg (5.5 lb)
Case Material
Aluminum Alloy
Antenna Interface
4 TNC External Antenna Interface
Working Environment
Operating Temperature
-20°C to 70°C (-4°F to 158°F)
Storage Temperature
-30°C to +75°C (32°F to 104°F)
Humidity Range
-30°C to 75°C (-22°F to 167°F)
5% to 95%, non-condensing
Power Source
Adapter(not included)
AC Input 100-240V, 50-60Hz;
DC Output 24V±5%/2.5A
DC Power Supply
24V-30V (24V/2.5A recommended)
POE supply(Option)
Support IEEE802.3AF & IEEE802.3AT protocol
Power Consumption
5W to 24W
Frequency Supported
SSRRC China
840-845Mhz, 920-925Mhz
FCC North America
902-928Mhz
ETSI Europe
ETSI Europe
Communication Interface & Network Protocol
Interface
RS232,10/100M Ethernet
GPIO Interface
4 channels of opto-isolated input (5V, <20MA)
4-way relay control output (30V, <1000MA)
Network Protocol
TCP/IP,DHCP,SSH,FTP,TELNET,UDP
Performance Parameter
GPIO
4 Photoelectric Isolation Input (5 V, <20 mA); 4 Relay Control
Tag Data Rate
(Relevant to Configurations)
RF Output Power
40 kbps to 400 kbps, 11 dBm to 33 dBm (step of 1 dBm)
Product Certification
CMIIT ID
2012DP2304
FCCID
TQ4XC-RF807
CE ID
ES120229146E