Scanmax F3 series infrared thermal imaging face recognition temperature measurement decive combined with the needs of epidemic prevention and user experience with the functions of rapid and accurate temperature measurement and health code recognitions. It aims to solve the existing problem of close measuring distance,slow recognition speed ,and heavy labor temperature measurement that used in the government,school,enterprises,high-end hotels,hospitals,exhibitions,and retail industries and so on.
Facial Recognition Door Access Advantage
*MTK Board To Support Faster Speed;
*Using 256*192 High Resolution Thermal Imaging Camera, Supporting RGB;
*Long Measure Distance: 0.3-1.2m
Features of Face Recognition Thermometer
* Record the data at the same time of rapid temperature measurement
* 2 megapixel RGB camera can be used for rapid temperature measurement of single person and code scanning
* Provide voice broadcast and API interfaces in up to 15 languages, plug and play power interface
* Chinese and English platforms are available
* Face recognition in strong light and backlight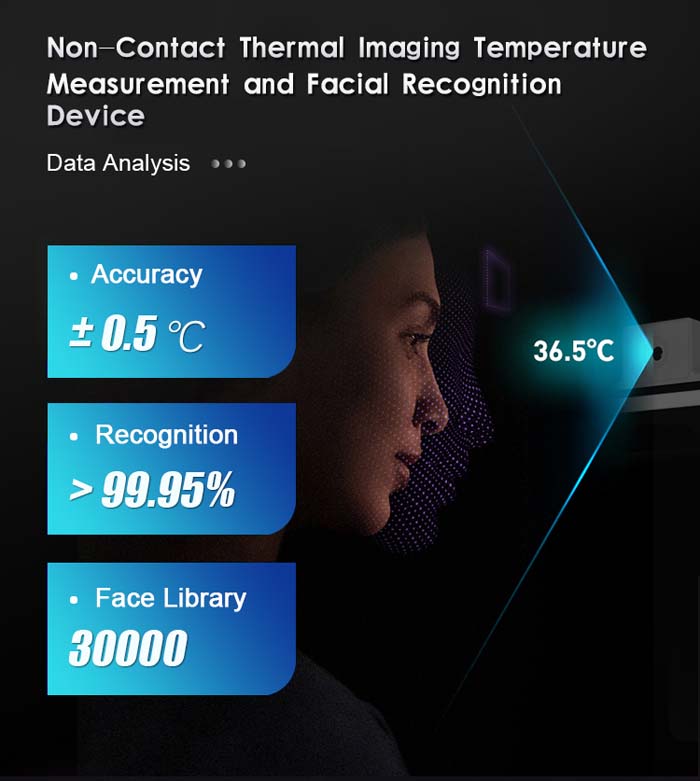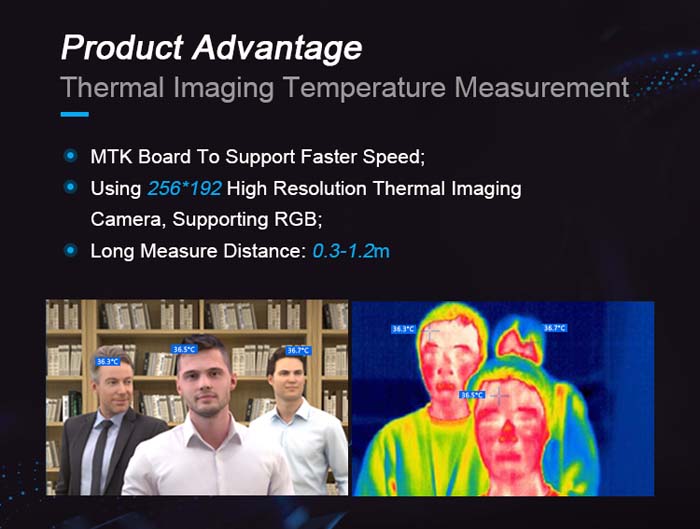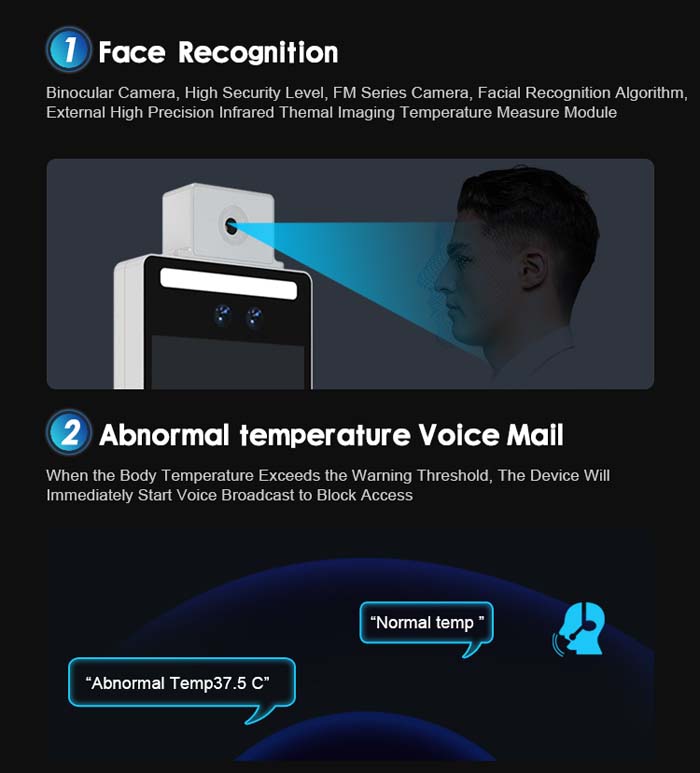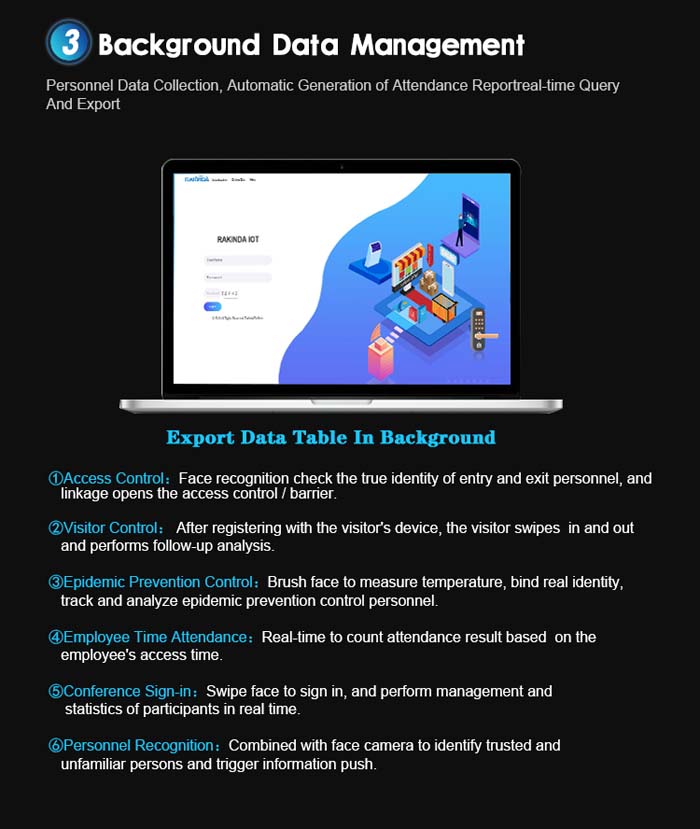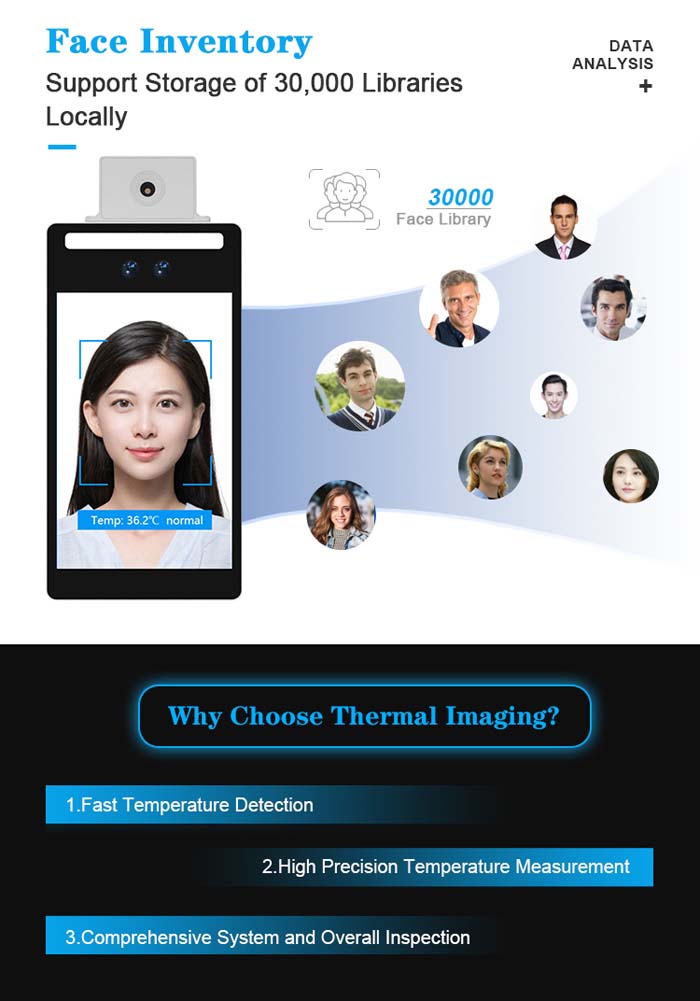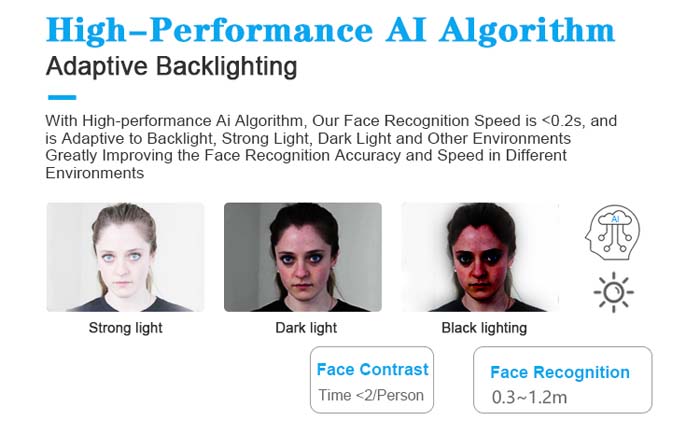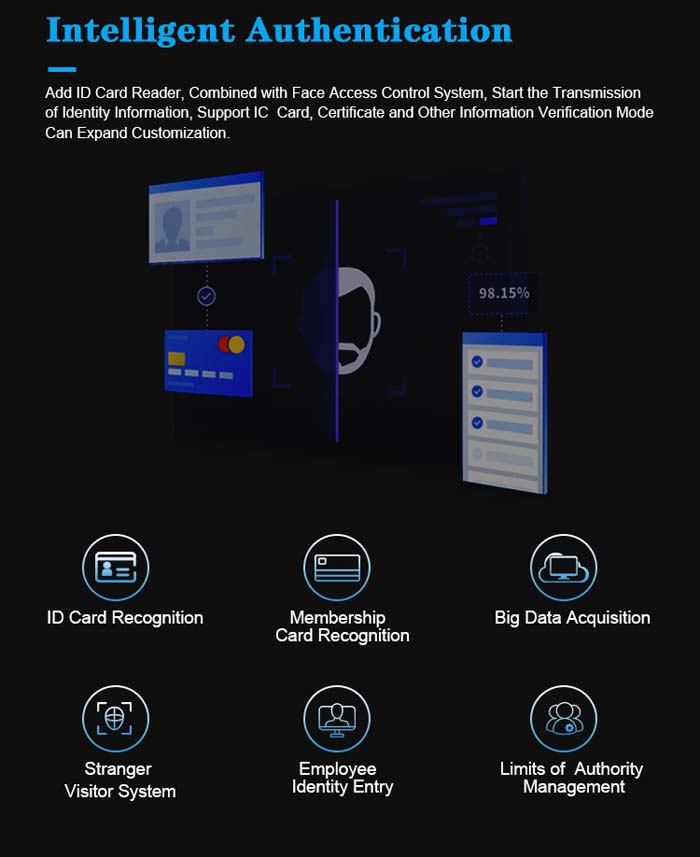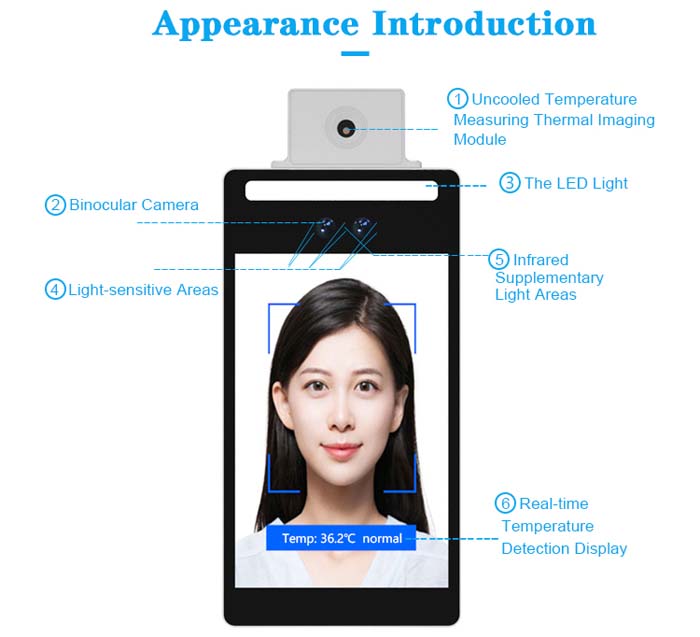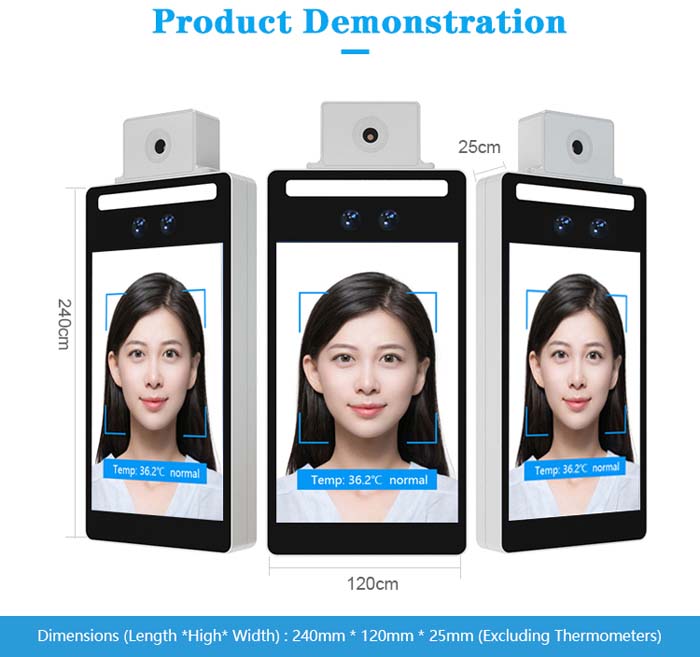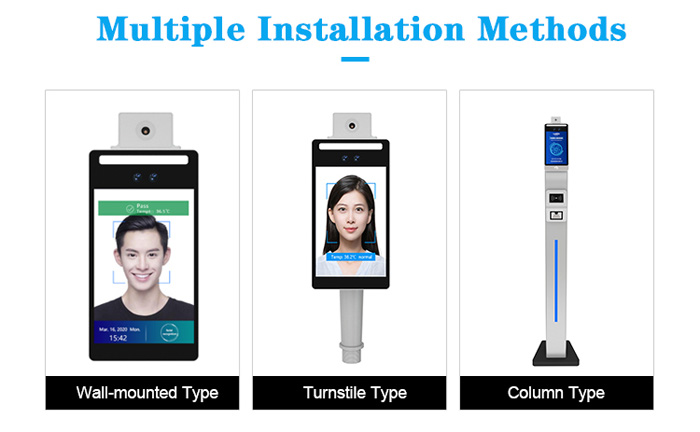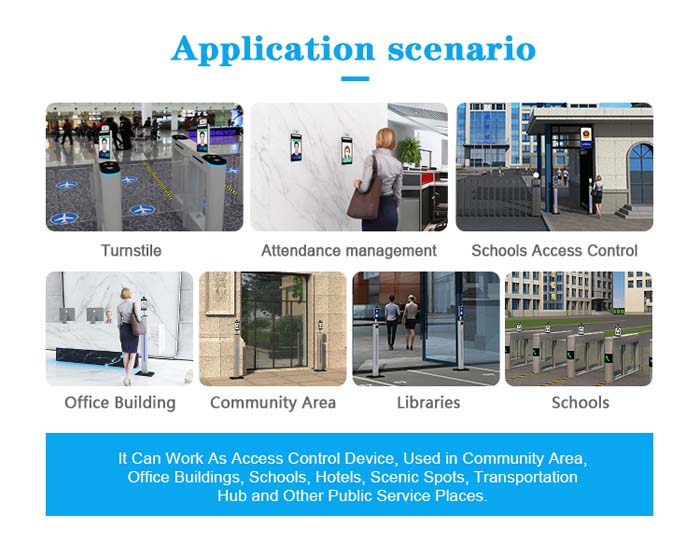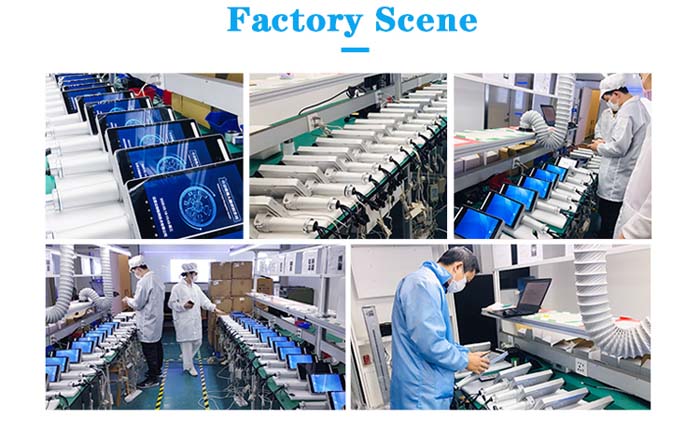 F2/F3 Series Face Recognition Device
We offer face recognition thermal imaging temperature measuring device with various configurations and multiple installation methods. Choose as you like. If there is any product you are interested in , please contact us NOW!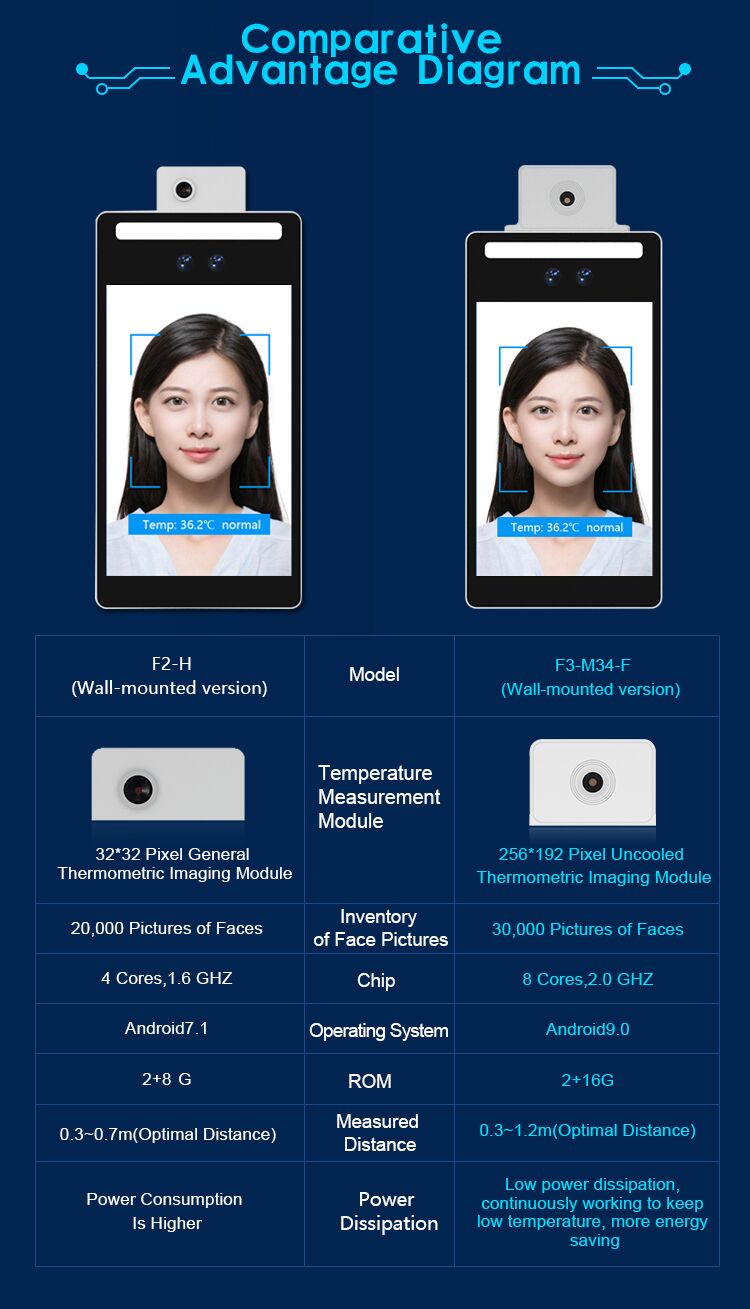 F3-M34-F Facial Thermal Camera Sensor

Model No.

F3-M34-F

Display

8 inches, Full viewing angle, 170IPS LCD screen

Screen Resolution

800*1200

Camera

Type

RGB

Thermal Imaging

Resolution

2 Million Pixels

256*192

Aperture

F2.8

F2.8

Focal Length

3.18mm

3.18mm

White Balance

Automatic

Automatic

Wide dynamic

Support

Support

Vertical Wide Angle

Horizontal Wide Angle

Basic Specification

Operating System

Android9.0 or above

Power Supply

DC12V(±10%)3A

Power Consumption

15w MAX

Relative Humidity

0%¨ 90%(In the State of Non-condensing Drops)

Operating Temperature

5℃-50℃

IP Grade

IP55(Wall Mounting, Water is Not Allowed at the Junction with the Outlet Box, and a Ceiling Can Be Added)

Working Environment

Indoor and Outdoor (with sunshade) Environment (no wind and direct sunlight)

Size

275.2MM*123.2MM*30.2MM

Hardware Configuration

Recognition Method

¨ ¨Face Recognition

¨ ¨Mifare Card(Optional)

¨ ¨IC Card(Optional)

Face Recognition Parameters

¨ ¨Face Verification Accuracy >99%

¨ ¨Face Recognition Distance 0.5m-1.5m

¨ ¨Card Verification Time 600MS

Local Storage 30000 faces

Interface

Micro USB 1pc

RJ45 Gigabit Network 1pc

Relay Output

Wiegand Interface

RS-232

Door Contact

Exit Switch

Power Supply

White Fill Light

Support

Indicator Light

Support Green Light for Authentication Success and Red Light for Authentication Failure

Speaker

Dual Speakers, 1.0w

Microphone

Non-noise Reduction

Basic Parameters

WIFI

2.4G 802.11b/g/n

Bluetooth

BluetooH 4.0

Temperature Measurement Module

Operating Temperature

5℃ ~ +50℃

Operating Temperature

-20℃ ~ +55℃

Power consumption

< 0.3w

Pixel

256*192 Real-time Temperature Output

Measurement Accuracy

± 0.5℃

Measuring Distance

0.3 ~ 1.0m

MTK

Motherboard

Chip

Octa-core A73

Operating System

Android9.0

RAM

2GLPDDR4

Storage

16GB eMMC

Power Input

12V/2A

Display

MIPI DSI Maximum Support Resolution 2400 * 1080

WIFi

2.4GHz and 5GHz;802.11a/b/g/n/ac

USB

Micro USB Type A Host*1;Micro USB Type A Device*1

USB 2.0 Host*2(1.25mm wafer)

Microphone

2W*2 Speaker output