Description of Face Recognition Thermal Device
Face recognition infrared temperature machine with live body detection function, can intelligently process backlight or poor light.
It also has a non-perceptual live body detection function, which can recognize photos, videos, mask, etc. And it supports face temperature measurement, facial recognition Thermometer + access control, Face temperature measurement + attendance, face temperature measurement + IC card recognition, face temperature measurement + IC card recognition + health code verification and other working methods to meet diverse needs.
Product Features

*External Environment
Long Distance Detection, High Temperature Alarm, Indoor Detection, Equipment Protection, Accurate Temperature Measurement
*AI Facial Recognition
Face Tracking, Temperature Tracking, Attendance and Access Control, Face Recognition, High Temperature Recording, Multilingual Conversion, Thermal Imaging Module
*Embed Mode
Easy to Install, Wall Mounted Design, Android Support, Provide DEMO,Various Accessories,Free SDK
Precautions of Thermal Imaging Fever Module
*For Indoors,no outdoor use
*No sun exposure
*Prohibited in heavy windy places
*Prohibited in rainy places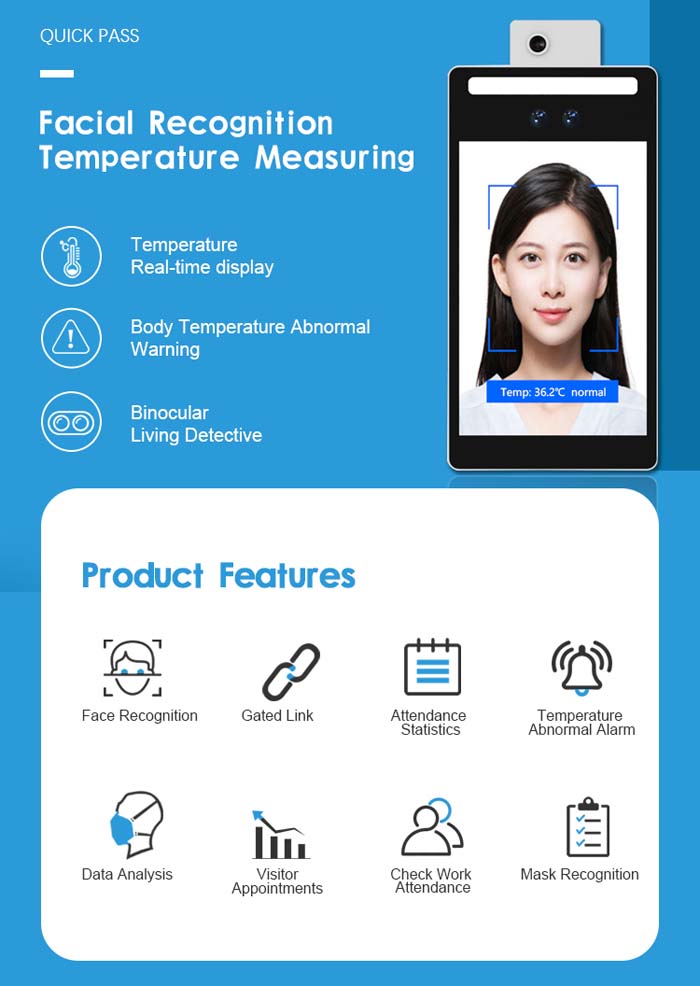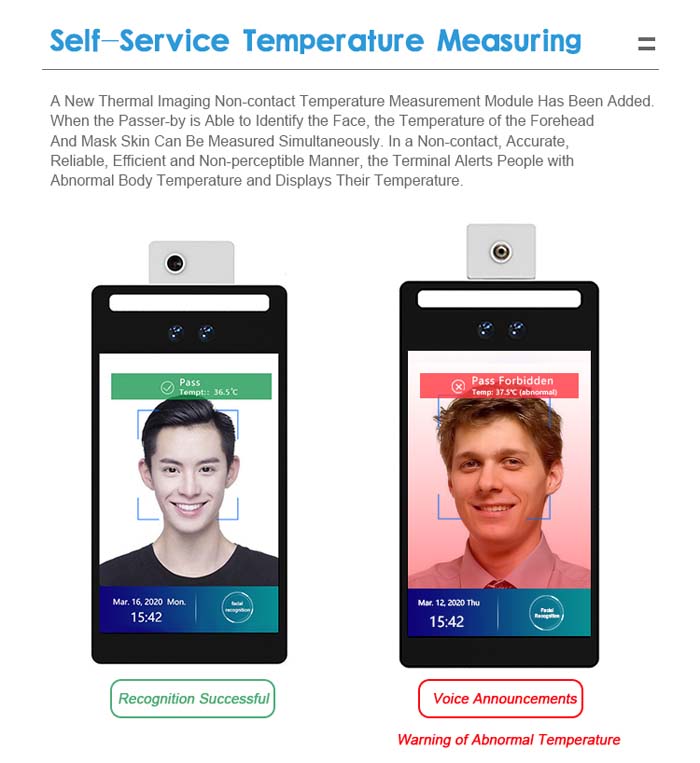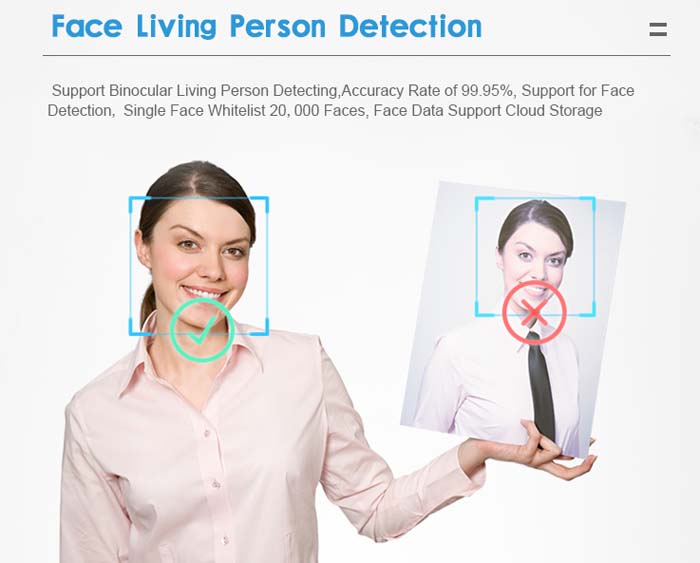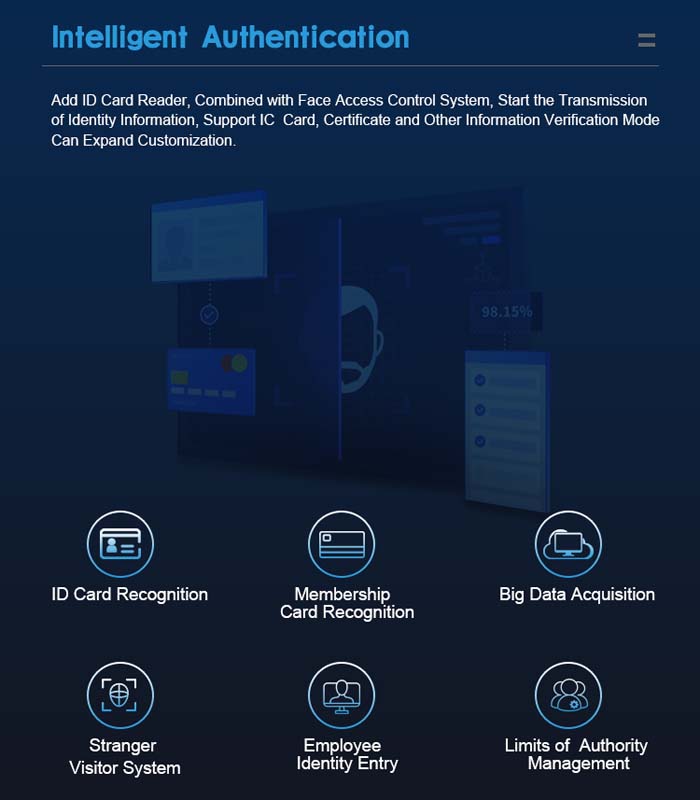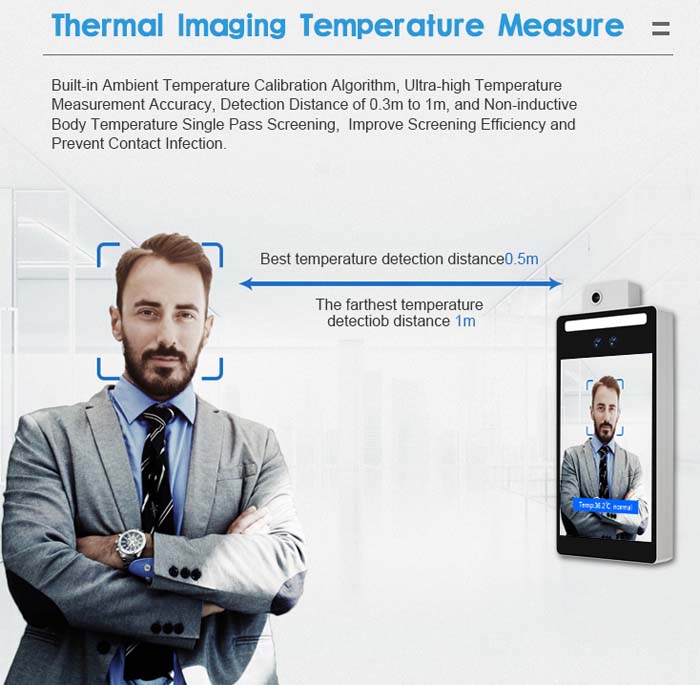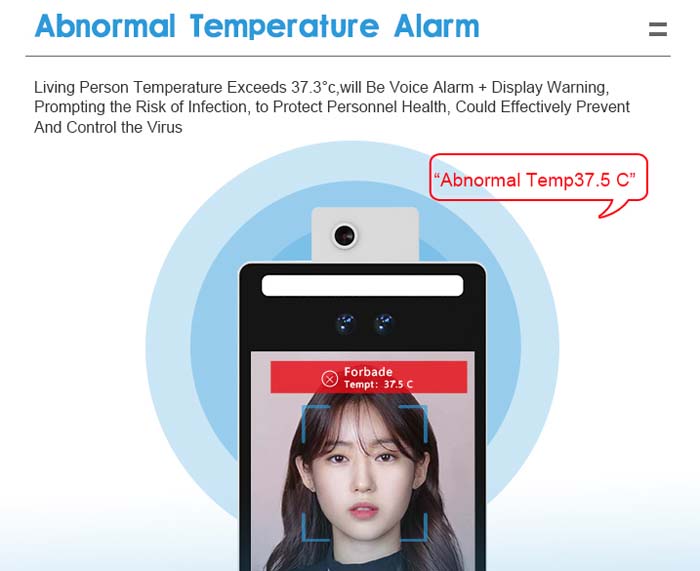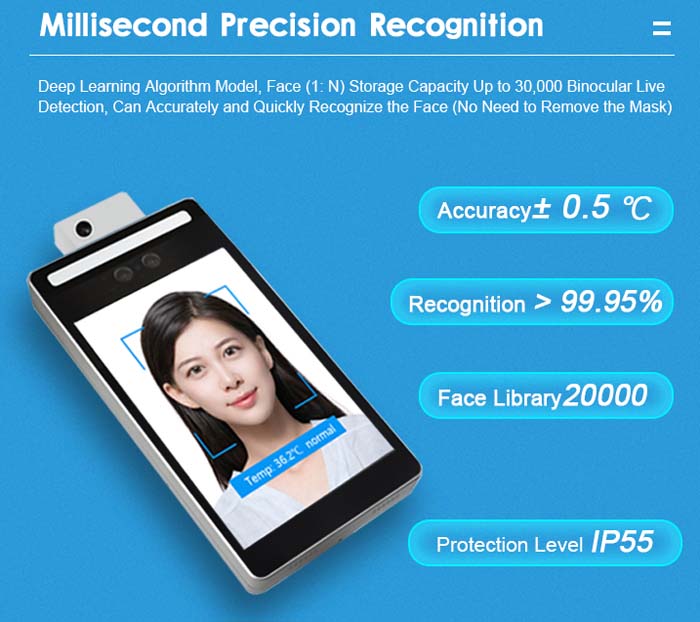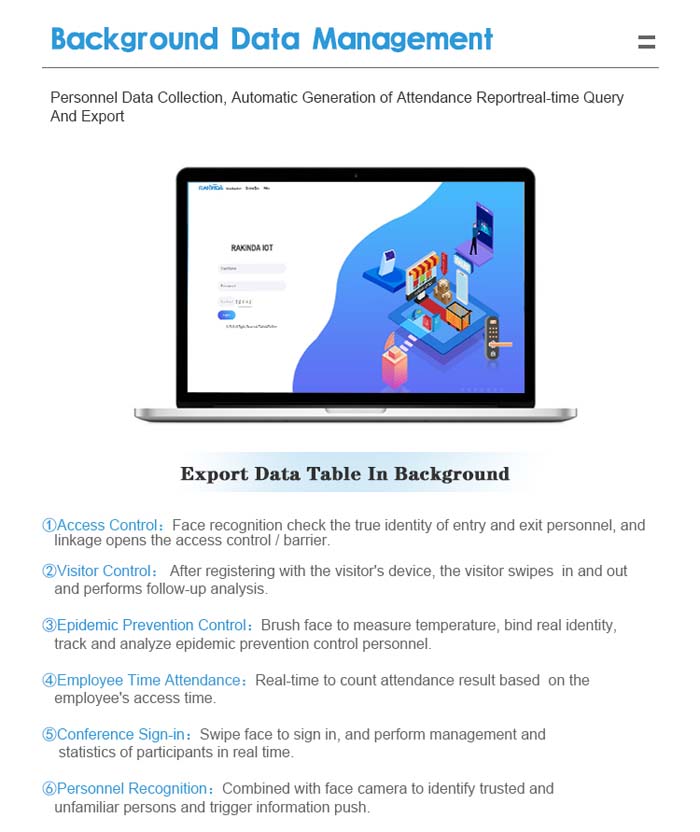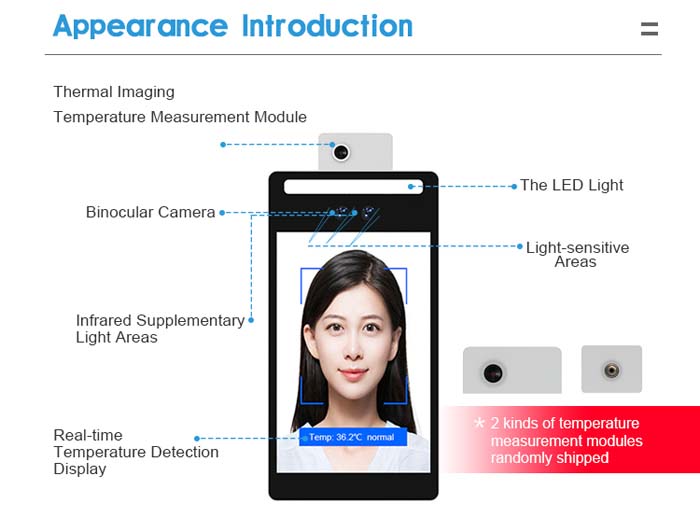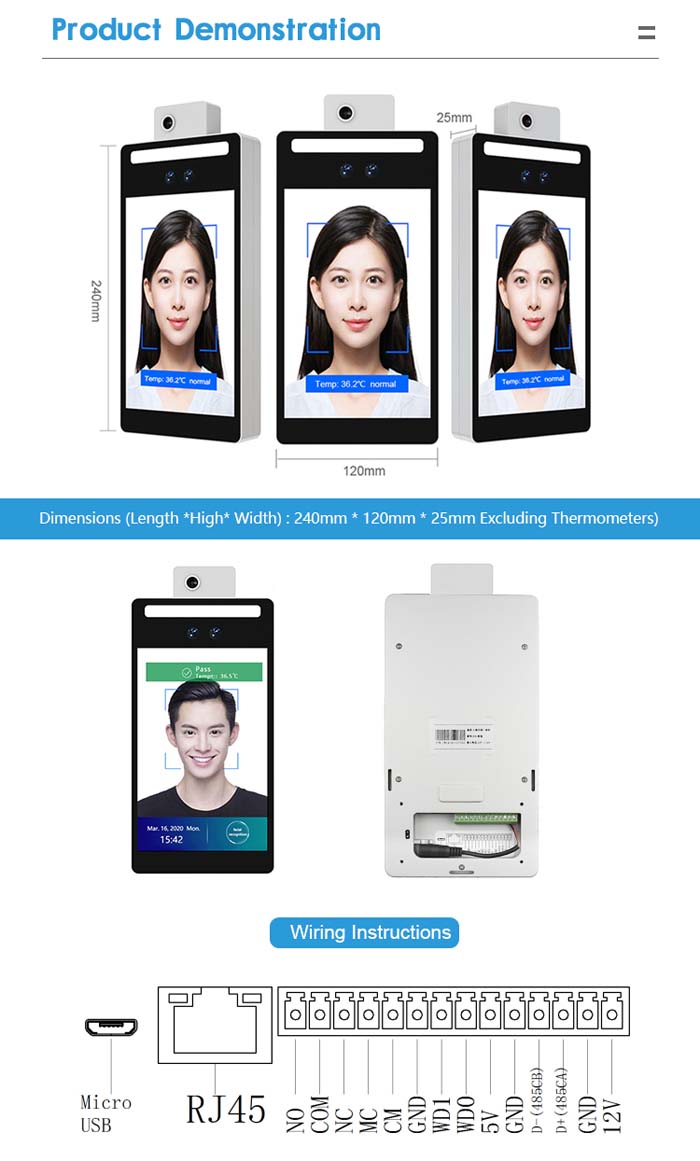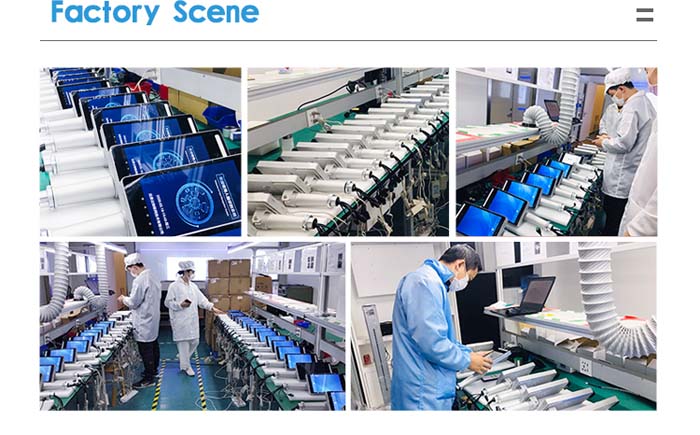 Application Scenario
It is suitable for thousands of people's office areas, hotels, access gates, office buildings, schools, shopping malls, shops, communities, public services and management projects that require face access control.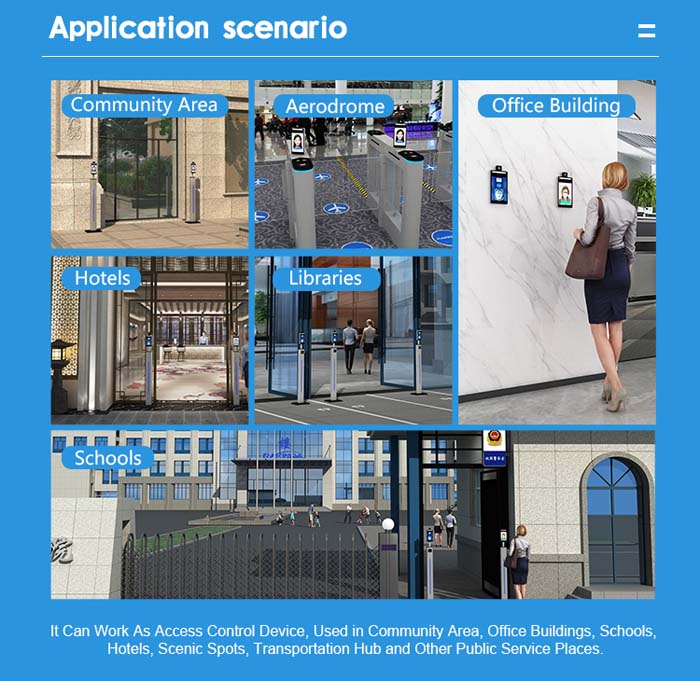 F2-H Face Recognition Access Control System

Product Model

F2-H

Size

8 inch, full viewing angle, 170 degree IPS LCD screen

Screen Resolution

800*1200

Camera

Type

RGB

Infrared

Resolution

2 million pixels

Aperture

F2.8

Focal Length

3.18mm

White Balance

Automatic

Wide Dynamic

Support

Vertical Wide Angle

Horizontal Wide Angle

Basic specifications

Operating System

Android7.1 or above

Equipment Power

DC12V(±10%)3A

Equipment Power Consumption

15w MAX

Relative Humidity

0% ¨ 90%(In a non-condensing state

)

Operating Temperature

-20 ~60(Wall-mounted design: the junction with the eight or six boxes is not waterproof, and a ceiling is required)

Protection Cass

IP55

Use Environment

Indoor/Ourdoor

Equipment Size

275.2mm*123.2mm*30.2mm

Hardware Configuration

Identification Method

Brush Face

Mifare card (optional: external purchase module required)

Resident ID card (optional: external purchase module required)

Face recognition parameters

Face verification accuracy >99%

Face recognition distance 0.5m-1.5m

Face ID card comparison time 600MS

Local capacity 20,000 sheets

Port

Micro USB 1pcs

RJ45 Gigabit 1pcs

Relay, Wiegand Interface, RS-485,Door Sensor, Door Switch

Support

Infrared/White Fill Light,

Basic Parameters

Indicator Light

Support authentication success, Green light prompt; Authentication failure, Red light prompt

WIFI

2.4G 802.11b/g/n

Bluetooth

Bluetooth4.0

4G LTE

Full Netcom (optional: custom purchase required)

Temperature Measurement Module

Operating Temperature

-20℃ ~ +85℃

Storage

Temperature

-40℃ ~ +85℃

Power Consumption

< 0.3w

Pixel

32*32 Real-time temperature output

Measurement Accuracy

I + 0.5℃

Measuring Distance

0.3 ~ 0.7m