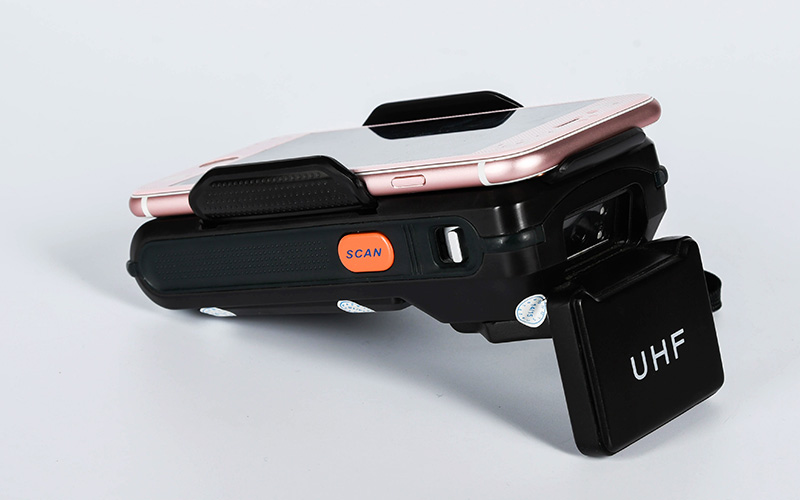 It is easy to get a bluetooth portable barcode scanner and it is also easy to get a rugged PDA. But can you find a product that it is bluetooth barcode scanner and can be attached to smart phones? The answer is yes.
For a long time, people use PDA (personal digital assistant) in warehouse, logistics, hospitals where people need to scan much barcode and restore the data. Previously, PDA is WIN CE os and its cost is at least above USD 600, and its screen size is small, mostly less than 4". It is not convenient and friendly to use.
With the rising of large touch screen smart phones, people like to work with their phones. This bluetooth barcode scanner works perfectly with smart phone and turns the smart phone into PDA. Are you curious about why not use phone camera directly to scan 1D or qr code? The answer is camera scanning is not sufficient for commercial application. First, it takes longer time for camera to scan. When there is a lot of code to scan, its efficiency becomes very low; secondly, when the printed is poor quality or damaged, it is almost impossible for phone camera to scan. So barcode scanner is very necessary in such applications.
And it is also very flexible to use this bluetooth scanner. When you need not to scan, you can move out the scanner and take the phone out; when you need to scan, please attach them and start to work.
The wings of barcode scanner are flexible. It can be adjusted to fit with different size phones. Even for tablets, there are fit wings to lock them.
The bluetooth barcode scanner can be used both with IOS or Android phone. What's more, the HF or UHF functions can be added as options.
Comparing with the cost of PDA, such bluetooth barcode scanner is very economic. Please kindly contact Rakinda to know more about this product.
Email yu@lvscan.com