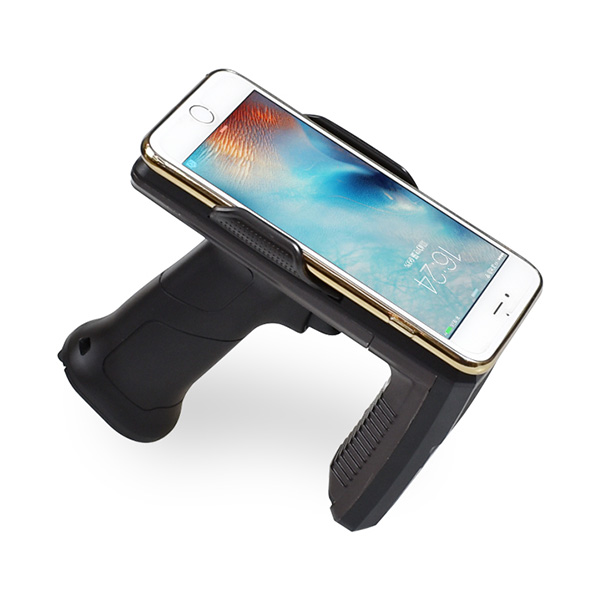 Speaking of UHF RFID reader, the reading distance is usually a key parameter for clients to choose a fit model. When customers need long distance reader, it is difficult for source a fit model. Rakinda recently launches a new UHF RFID reader and its reading distance can reach 6-15m according to different tag material and size. Its long reading distance makes it conveniently used in large warehouse.
Secondly, it has a long handle with ergonomic design. It is very convenient to operate in various environment. Users can handle it easily with single hand, right or left.
Thirdly, it uses 6000mAh large capacity rechargeable Li-polymer battery is, twice of normal battery capacity. It can charge the smart phone at any time to guarantee one whole day mobile operation.
The same as previous models, this new model can work with any size or model smart phone and tablet owing to its adjustable wings. What's more, the UHF RFID reader also has the bluetooth 1D/2D barcode scanner options. It can meet various tags reading and barcode reading requirement.
The reader connects the smart phone or tablet through bluetooth directly, no need changing the mode of phone.
Surely its price is lower than a RFID PDA with display. This can save a lot for users. In coming years, RFID products will be needed more, such as traditional logistics, warehouse, as well as emerging important assets management in hospitals, health-care center and more.
Rakinda has been in IOT area for 18 years. Please kindly contact us to know more about UHF RFID reader.
Email yu@lvscan.com