With the continuous popularization of information technology, automated equipment is also highly respected. In large supermarkets, there are fixed scanners or scanners gun. The price of the products is no longer a headache for the salesperson. Gradually, the equipment enters a smaller supermarket. Enter other business needs.Rakinda can provide a wireless 2d handheld scanner for supermarket or store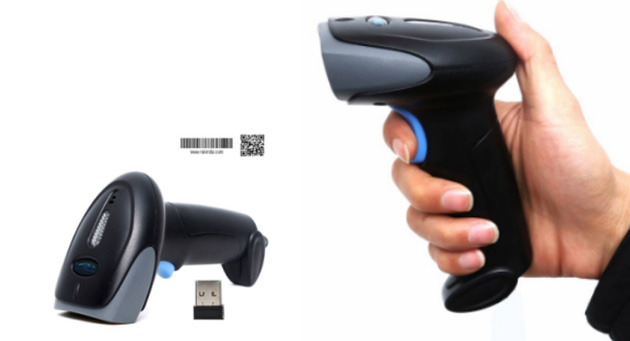 Here are some advantages of Rakinda Rk400s 2d scanner gun
1) Excellent performance: Integrated Rakinda's independent core decoding chip technology, whether it is traditional printing barcode or screen barcode, whether it is high-density barcode, large data barcode and all kinds of bending code can easily deal with.
2) Exquisite appearance: exquisite design from the "fashion" to the ergonomic design principle, to ensure the comfort of a high degree of work, while the appearance is small and light, stylish and exquisite, in line with the aesthetic needs of the current O2O era, in meeting the functional needs of customers At the same time, it can be used as a icing on the cake.
3) Affordable: Affordable from "integration" The highly integrated hardware design allows customers to obtain excellent reading of 2D barcodes at the cost of a one-dimensional scanner.
4) Rugged and durable: Durable from the "technology" The hardware adopts a highly integrated design without any redundant movable components, and the structure design has IP42 protection level, 1.2 meters anti-drop height, and the products are sturdy and durable.
5) Green low power consumption: Adopting independent core technology, greatly reducing operating power consumption and extending equipment life.
RAKINDA is a company committed to the development up to barcode scanner technology at the core of the automatic identification system integration organizations, enjoyed several years of industry experience and excellent reputation, in Shenzhen and Hong Kong branches, and has a very skillful, experienced, innovative R & D and after-sales technical support service team.
Rakinda Group, the manufacturer of barcode scanner module, was established in 2000. We have offices in Guangzhou, Shenzhen, Hongkong, Xiamen, Suzhou and Beijing. And we have been supplying the barcode scanner module for Walmart, Carrefour and Foxconn etc. Any questions do not hesitate contact me as below
Contact me:
Shenzhen Rakinda Technologies Co., Ltd.
Tel: +86 17710422897
Email: amy@rakinda.com
Mobile/Whatsapp: +86-17710422897
Website: www.rakinda.com/www.rakindaiot.com
Add: 5F Bldg.A2.Lilang Software Park, No,31 Bulan Rd, Longgang
Dist, Shenzhen City, China