Now with the development of E-commerce shopping, online shopping is more and more convenient and able to meet people's needs. Even the convenience of mobile shopping, delivery to the home, there are still various problems in express delivery, no one at home during the day, parcel delivery can not be received personally, sometimes sent to the warehouse downstairs or Agents, it is easy to cause the loss of the courier, finally can not find the specific responsible person.
How to avoid these problems? Just embedding 2D fixed mount barcode scanner RD4500R that will help you solve many problems.
The intelligent express cabinet is very convenient for us. The courier only needs to scan the courier number, input the contact information of the recipient, and then put the courier package in the box, a text message will be sent to the recipient's mobile phone, and the receipt will be sent. By using the short message code or paying attention to the public number, people can generate 2D code and scan the QR code. After hold mobile phone with QR code in front of scanner, they can open small door, then can get the package.
The intelligent express cabinet takes 24 hours to pick up the pieces, ensuring that the parcels are safe and not lost.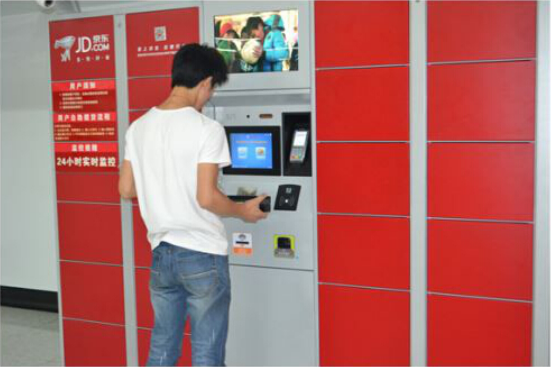 Shenzhen Rakinda RD4500R QR code scanner has the ability to complete the product selection and automation service, phone payment and residential work. It is 2D QR fixed mount barcode scanner , which widely embedded into vending machine, importing machine and smart cabinet and so on. Based on its with high-speed capabilities. Auto sense, the module goes to some sounds, read the instant 2D code. Then finished reading the QR code.
The RD4500R adopts a new generation of core decoding technology independently developed, which can quickly read the minimum brightness and reflective screen code of the mobile phone. In the case of standby sleep, when objects are close, it will automatically recognize and recognize.
A variety of bar code scanner modules that Rakinda Technology can provide and easily to be embedded . As Rakinda Technology has more than 18-year manufacturing experience for bar code scanner, which already has professional research and development team. More details, pls contact us!
Shenzhen RAKINDA Technology Co., Ltd. is specialized in the development of smart card hardware and software systems, production, sales and operations in one of the national high-tech enterprises. Products are widely used in city card, park area, retail businesses, parking fees, government platforms and other consumer areas. With years of focus on management, innovation and development, the company in the industry.
It has a wide range of customer base and industry reputation, to achieve the city card applications and urban bus intelligent scheduling management. RAKINDA engaged in barcode technology research and development for more than 18 years, we have a mature R & D team and overseas markets, we can help you quickly and easily realize unattended dream.