Face Recognition terminal F5 Pro Access Control Machine Built in IC Card reader and QR Code scanner
F5 Pro is a convenient and safe industrial-grade visual face recognition terminal. Based on the latest face recognition algorithm of Rakinda Technology, F5 Pro face recognition verification terminal can realize personnel identity verification, personnel entry and exit management and attendance management, which is widely used in office buildings, parks, school stations, enterprises, governments and scenic exhibition halls and other common scenarios, helps to realize intelligent safety management and control.
The system supports binocular infrared live body detection and adds the function of human body temperature screening. It is a new generation of intelligent identity verification methods.
Product Features
*Recognition is fast and accurate: face recognition can be completed in 300 milliseconds, the recognition accuracy is higher than 99%, and it supports 0.5m~1.5m recognition;
*The capacity of the recognition library is large: support the local staff library of 20,000 people;
*Support local storage of historical records of 50,000 people;
*Powerful detection function: real-time detection and tracking of human faces, accurate detection can be carried out in situations such as side faces, half occlusion, and blur;
*Infrared live detection: effective defense against non-living attacks such as 3D printing, electronic screens, videos, pictures, masks, and headgear;
*Interface standardization: support the Wiegand protocol of the access control industry, and support the docking of third-party business systems;
*Support external ID card reader;
*Abnormal alarm reporting: Support for forced dismantling of equipment, forced door opening alarm, door sensor timeout, and abnormal alarm reporting of non-living attacks;
*Support RS-485 serial port, Wiegand 26/34 output interface;
*Support the deployment method of public network and local area network;
*Support HTTP interface docking;
*Support screen display content configuration;
*Support recognition distance configuration;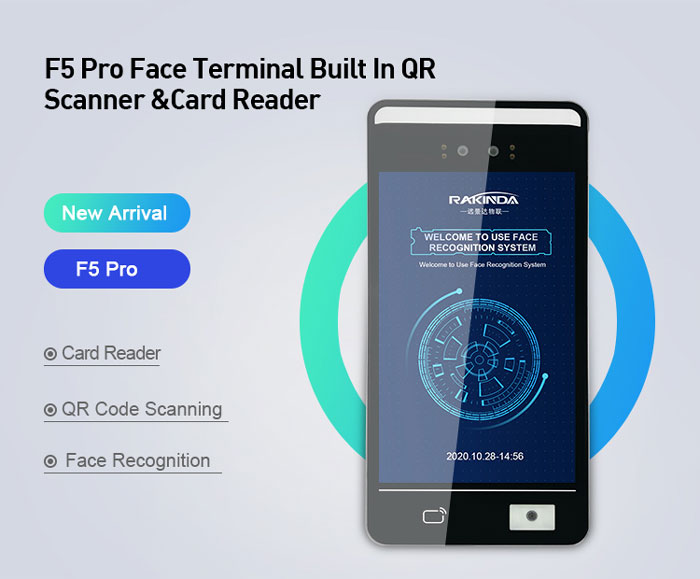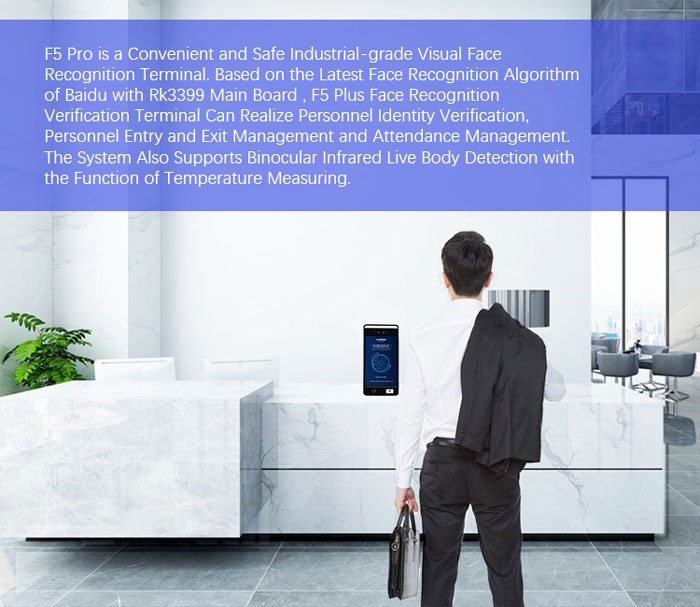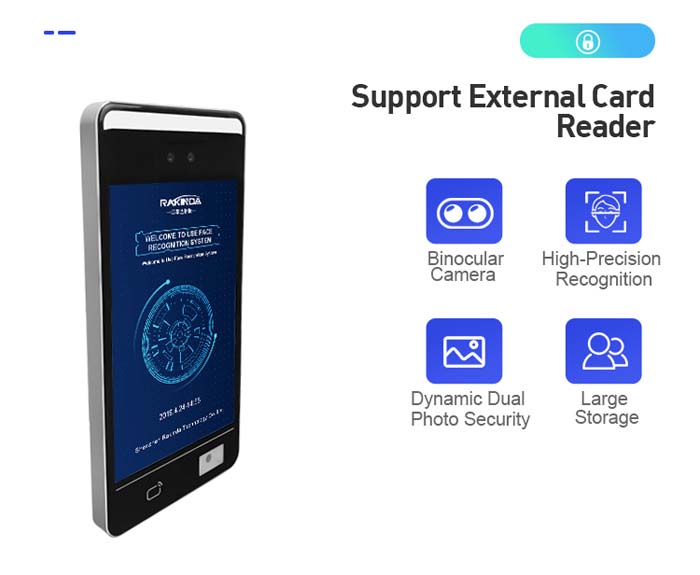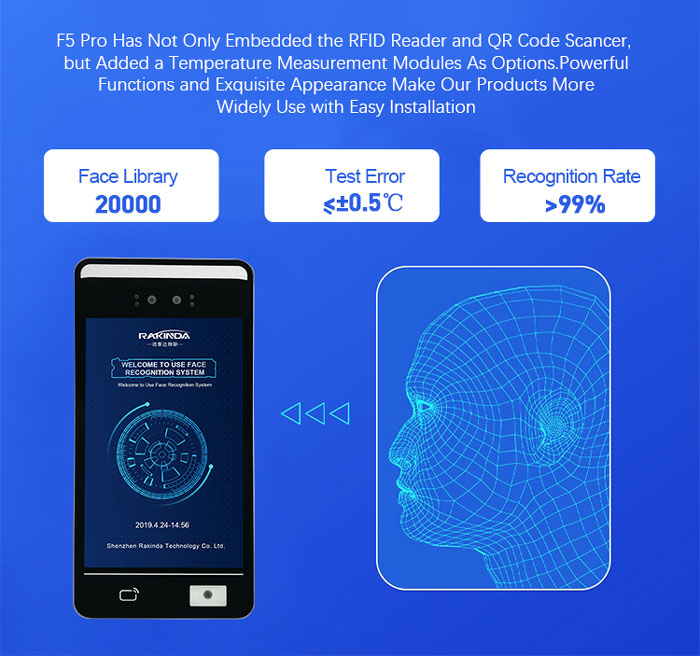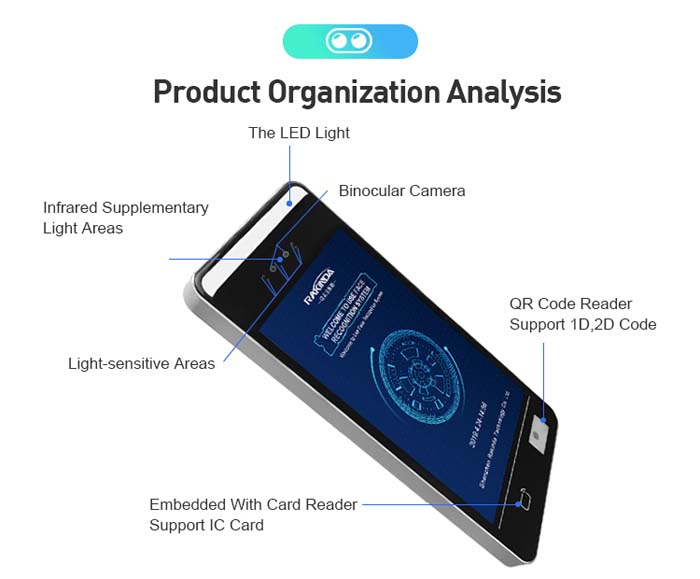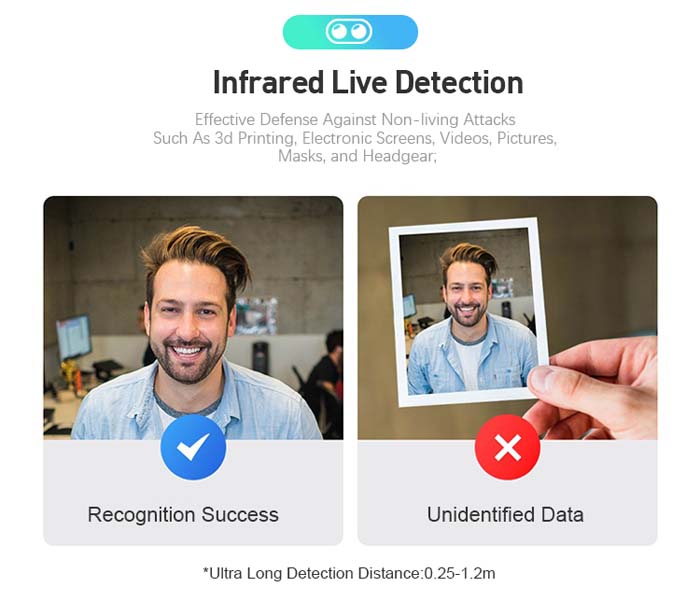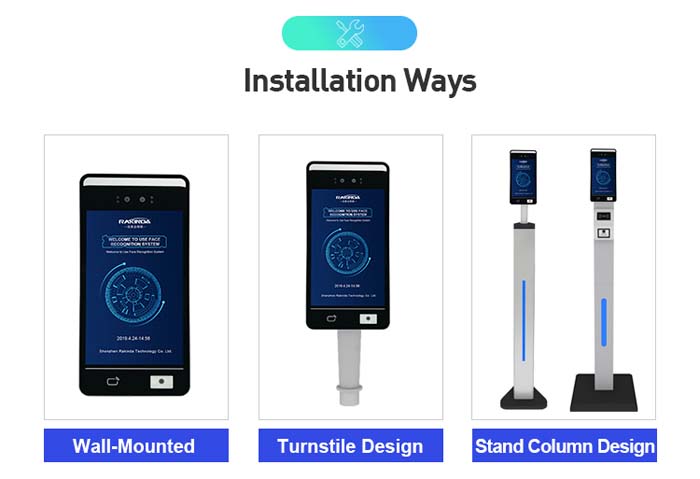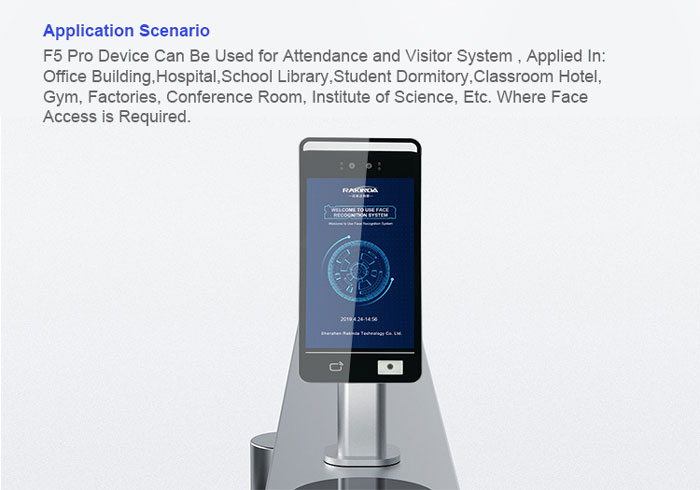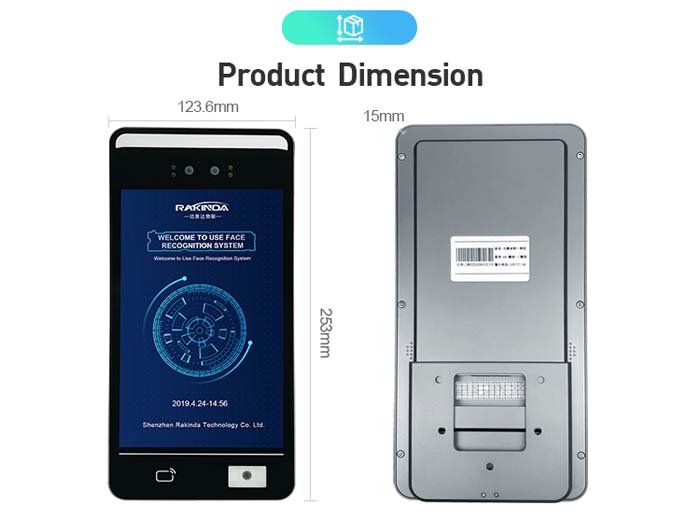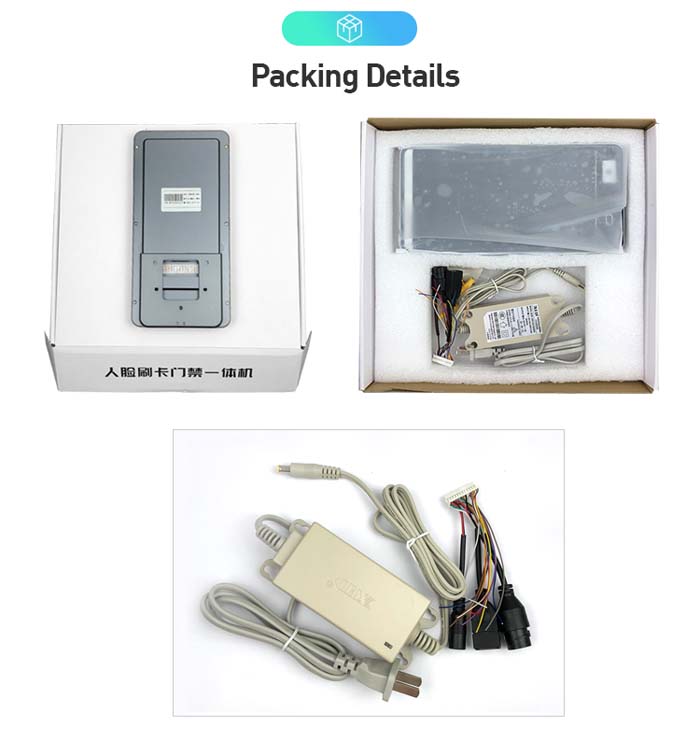 Face Recognition Terminal

 Model

Wall-mounted Type

Turnstile Type

Features

Main function

Face recognition, Temperature detecting, Access control

Use environment

Indoor & Outdoor

Color

Cold Gray

Camera

Type

RGB

IR

Resolution

2 million pixels

2 million pixels

Aperture

F2.0±5%

F2.0±5%

Focal length

4.3mm±5%

4.3mm±5%

Software wide dynamic

Auto

N/A

Vertical wide angle

40°

40°

Horizontal wide angle

65°

65°

Infrared fill light

Support

Support

White fill light

Support

Support

Core parameter

Android

Android7.1

CPU

4 cores,1.6GHz

Storage

RAM 2G,ROM 8G

Man-machine Interactive

Display

8 inches, Full viewing angle, 170°IPS LCD screen, Resolution 800*1280

Touch Screen

Support

Human body sensing module

Support

Human body sensing module【Options】

Test accuracy:0.1℃

Test error:≤±0.5℃

Test distance (recommended distance) 50cm

Working temperature:10℃~40℃

Communication method

Networks

10/100/1000Mbps

WIFI

Comply with IEEE802.11b/g/n standard (2.4G)

Reading Mode

Face

Support

IC card

Support

QR code

Support

Input/Output port

RJ45 port

Support 100Mbps

USB port

USB 2.0

Power

Adaptor

DC12V-2A

Environmental requirements

Working temperature

-20℃~60℃

Working humidity

20% to 90% (under non-condensing water dripping state)

Static protection level

IEC61000-4-2,LEVEL3

Install Method

3 methods

Wall-mounted kit

Turnstile stand kit

Ground stand kit