Thermal imaging temperature measurement with face recognition all-in-one machine F2-H series is a product during the epidemic. Originally, only fingerprint punching machines or two-dimensional code access control were installed in attendance check-in or access control places. On the basis of face recognition access control, an infrared thermal imaging temperature measurement module is added to facilitate non-contact face-swiping time attendance and clocking at the same time to screen out people whose body temperature exceeds the standard. It is densely populated for government, enterprises, institutions, medical care facilities, campuses, etc. The premises are escorted, and suspected fever people are found in time.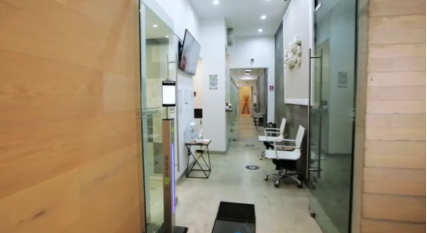 It can be found that recently many public service places such as enterprises, schools and government halls have gradually installed face recognition, temperature measurement, access control and attendance all-in-one machines. Does this indicate that the transformation and upgrading of traditional access control or attendance equipment is coming? It is understood that in the past few years, many places where access control or attendance check-in has been gradually upgraded from traditional fingerprint check-in or access control equipment to face recognition, access control and attendance all-in-one machines, and the epidemic prevention and control that is being promoted this year will be implemented in earnest." For various epidemic prevention and control work, will there be a comprehensive upgrade of face access control and attendance equipment in many scenarios to incorporate the function of face brushing and temperature measurement? The answer is yes.
At the beginning of this year's epidemic, the Chinese government website issued the "Notice of the State Council's Joint Prevention and Control Mechanism for the Prevention and Control of the Novel Coronavirus Pneumonia Epidemic on Printing and Distributing the Guidelines for the Prevention and Control of the Epidemic Prevention and Control Measures for the Resumption of Work and Production of Enterprises and Institutions", clarifying that the fingerprint attendance machine should be temporarily disabled, mainly Worry about the cross-infection caused by the traditional contact attendance equipment. In this situation, as a manufacturer specializing in the research and development, production and sales of intelligent face recognition terminal products for the Internet of Things, RAKINDA has launched the F2 series of face recognition temperature measurement based on thermal imaging. All-in-one (wall-mounted, gate and column models are optional), and a high-level security, high recognition accuracy and automatic intelligent personnel real-name entry and exit body temperature detection and early warning program, which adds infrared temperature measurement to the original face recognition all-in-one machine Function, you can easily complete door opening, temperature measurement and attendance check-in by swiping your face. It can not only effectively detect and prevent potential risks of the epidemic, but also provide offline face recognition, multi-machine networking applications, intelligent visitor management, personnel attendance, Mask intelligent recognition and prompting, health code status recognition, disinfection automatic induction spray, self-service intelligent temperature measurement, high temperature intelligent warning, blacklist warning and living body detection and other functions, easily assisting units returning to work, school opening, community office buildings, medical care facilities For those who can quickly screen for abnormal body temperature, even after the epidemic, they can continue to be used as an adult face access control and attendance all-in-one machine to fully protect user interests.
Founded in 2000, RAKINDA is a national high-tech enterprise and a recognized industry benchmark for global IoT automatic identification application solutions. It specializes in data collection at the perception layer of the Internet of Things, using barcode recognition, face recognition and radio frequency. Identification (RFID) three core technologies, providing digital solutions for the Internet of Things industry and government projects for smart new retail, smart campus, smart hotel, smart fitness, smart home, smart medical, smart waste classification and other industries and government units. Highly praised.